Fall/Winter 2022
Sports: Cannabis and Athletic Performance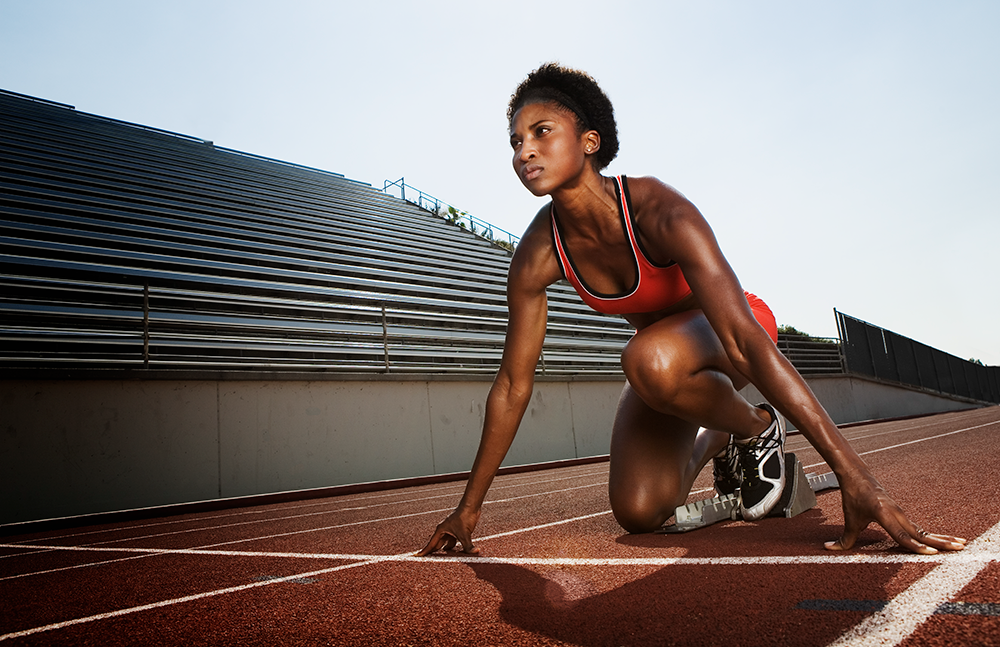 Cannabis use by athletes received a substantial amount of media attention recently when top-ranked American sprinter Sha'Carri Richardson was disqualified from participating in the Summer Olympics in Tokyo after testing positive for THC. She publicly admitted her cannabis use, which was legal in the state where she used it, and which was in response to grieving the death of a family member, not to enhance her athletic performance. Cannabis is on the Prohibited List of the World Anti-Doping Agency (WADA). Substances on the Prohibited List must meet two of the three following inclusion criteria to be banned for use in competition:
They pose a health risk to athletes.
They have the potential to enhance performance.
They violate the spirit of sport.
The US Anti-Doping Agency follows WADA rules. With the legalization of cannabis for medical and recreational use in many states and countries, many athletes and professional athletic associations have been questioning the cannabis ban for athletes. The continued ban was supported by a 2011 research publication on cannabis in sport that stated, "Based on current animal and human studies as well as on interviews with athletes and information from the field, cannabis can be performance enhancing for some athletes and sports disciplines."1 WADA exempted CBD from this ban in 2019, but all other natural and synthetic cannabinoids in any form are prohibited in competition, primarily because they are thought to be performance enhancers for athletes.
"I do not think cannabis should be banned," says Joanna Zeiger, MS, PhD, founder and CEO of Canna Research Foundation, a nonprofit organization of cannabis outcomes researchers who conduct and consult on research studies of cannabis patterns of use, benefits, adverse effects, and knowledge/attitudes in medical cannabis users. Canna Research Foundation also provides evidence-based consulting and education to cannabis industry stakeholders, physicians, dispensaries, and patients.
The idea that cannabis is a performance enhancer for athletes has been disproven by more recent research studies. Some research has even shown that cannabis may actually adversely affect athletic performance. "While there is limited research on the impact of cannabis on athletic performance, the studies that have been done indicate that cannabis can potentially harm performance by delaying reaction time and causing somnolence," Zeiger observes. She cites one 2021 critical review of published studies of the effects of cannabis on athletic performance and recovery that found, "While investigations of whole cannabis and THC have generally shown either null or detrimental effects on exercise performance in strength and aerobic-type activities, studies of sufficient rigor and validity to conclusively declare ergogenic or ergolytic potential in athletes are lacking."2
In this review, Burr and colleagues note that cannabis does affect human physiology; however, there are large gaps in evidence regarding its effects on elite athletes and performance enhancement. Most relevant studies were published 35 to 45 years ago, and there's been little progress in determining the effects of THC on athletic performance.2
A 2018 review of cannabis and its effect on health and performance in elite athletes concludes, "Although cannabis use is more prevalent in some athletes engaged in high-risk sports, there is no direct evidence of performance-enhancing effects in athletes."3 A 2020 systematic review also indicated that chronic cannabis consumption had no effect on the strongest predictors of athletic performance—maximal oxygen uptake and physical work capacity.4
A 2017 systematic review of studies of cannabis and sport performance found that THC does not improve aerobic performance; in fact, a few studies revealed detrimental effects such as reduced strength and cardiac side effects (eg, angina).5 An updated narrative review in 2022 reconfirmed that CBD and THC do not enhance athletic performance.6 Furthermore, it noted that the anti-inflammatory and analgesic properties of CBD have not been adequately evaluated for athletic use, and though CBD can be used legally in athletic competition, some formulations may contain measurable THC that can produce positive results in a drug test.6
According to Zeiger, CBD and THC use by athletes is a complex issue for those who compete and are subject to antidoping regulations. "The manner in which cannabis is monitored by antidoping agencies makes it tricky for athletes who use cannabis for health and wellness," Zeiger says. There are several problematic issues related to cannabis use and athletes, she notes. THC is banned, but it is not a blanket ban, which further complicates use for athletes, according to Zeiger. "THC is allowed out of competition, but not allowed in competition. Additionally, THC is a threshold drug, meaning that it can be in the athlete's system up to a certain level. If the athlete has THC levels above the threshold, then it is considered a positive test," she explains. However, because THC is metabolized differently in each individual, the athlete does not know how much THC has to be consumed to trigger a positive test—reaching the threshold for triggering a positive test, therefore, varies from athlete to athlete. The only way for an athlete to avoid testing positive, Zeiger says, is to not use it at all. "This creates a dilemma for athletes who use THC as medicine," she notes. Adding to this dilemma, CBD use is not banned.
"While it is still inconclusive whether cannabis directly impacts athletic performance, it does affect performance indirectly," Zeiger says. She and her colleagues conducted a study on cannabis use in athletes and found that active athletes who used cannabis (including both THC and/or CBD) experienced pain relief, improved sleep, and decreased anxiety.7 Zeiger notes that the study indicated that the beneficial effects of cannabis outweighed the negative effects, which included respiratory issues as well as increased appetite and anxiety. (Cannabis may increase or decrease anxiety, depending on the strain, route of administration, and amount consumed). Respiratory issues also occurred in athletes who smoked cannabis—Zeiger emphasizes that smoking cannabis is not healthy for the lungs, particularly for athletes. "But there are many medications and substances on the market used by athletes that do the same things as cannabis and they are not banned. Many have a worse side effect profile than cannabis," Zeiger states.
With well-known athletes promoting, and sometimes marketing, CBD and THC products, the use of cannabis by athletes is increasing and even accepted for pain management, muscle relaxation, and the potential to ease symptoms of sport-related injuries such as concussions. WADA voted to continue banning the use of THC in competition through 2023. Given that scientific research seems to indicate that cannabis does not enhance athletic performance, a continued ban on cannabis use in competition is likely to be vigorously opposed.
— Jennifer Van Pelt, MA, is a freelance writer and health care researcher located in the Lancaster, Pennsylvania, area.

References
1. Huestis MA, Mazzoni I, Rabin O. Cannabis in sport: anti-doping perspective. Sports Med. 2011;41(11):949-966.
2. Burr JF, Cheung CP, Kasper AM, Gillham SH, Close GL. Cannabis and athletic performance. Sports Med. 2021;51(Suppl 1):75-87.
3. Ware MA, Jensen D, Barrette A, Vernec A, Derman W. Cannabis and the health and performance of the elite athlete. Clin J Sport Med. 2018;28(5):480-484.
4. Kramer A, Sinclair J, Sharpe L, Sarris J. Chronic cannabis consumption and physical exercise performance in healthy adults: a systematic review. J Cannabis Res. 2020;2(1):34.
5. Kennedy MC. Cannabis: exercise performance and sport. A systematic review. J Sci Med Sport. 2017;20(9):825-829.
6. Kennedy M. Cannabis, cannabidiol and tetrahydrocannabinol in sport: an overview. Intern Med J. 2022;52(9):1471-1477.
7. Zeiger JS, Silvers WS, Fleegler EM, Zeiger RS. Cannabis use in active athletes: behaviors related to subjective effects. PLoS One. 2019;14(6):e0218998.