Winter 2021
Update: Lung Injury From Vaping Devices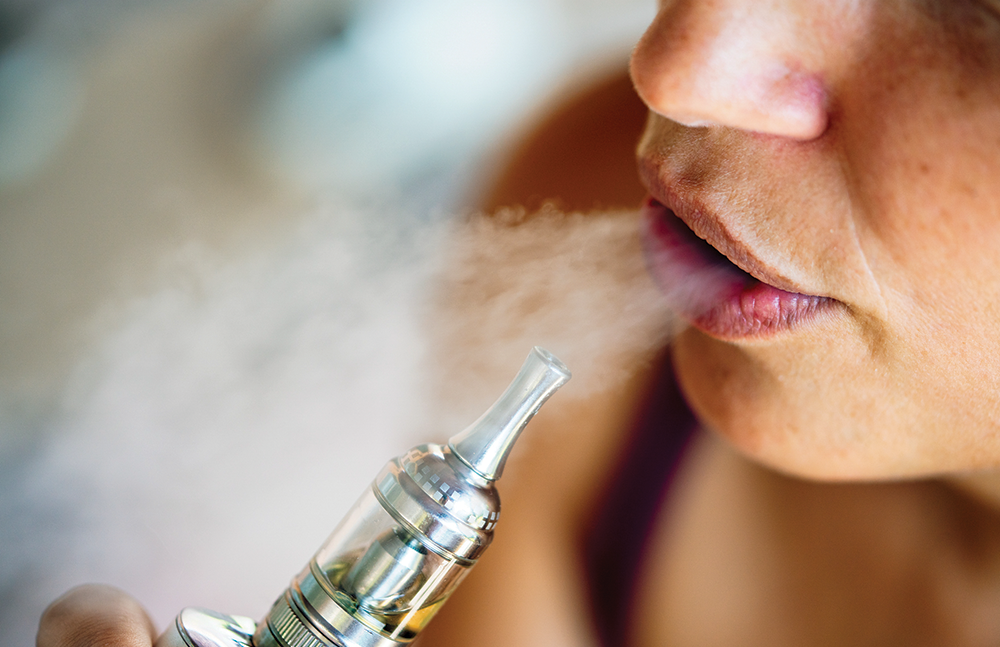 Vaping has been promoted as a safer alternative to smoking for the administration of therapeutic cannabis. While continued evidence largely appears to support this, it's essential to follow the growing body of research on e-cigarette or vaping product use–associated lung injury (EVALI) and the increased understanding of vaping devices. In fact, early results from a recent experimental vaping study led by Robert A. Kloner, MD, PhD, chief science officer for Huntington Medical Research Institutes and Michael Kleinman, PhD, professor of occupational and environmental medicine at the University of California, Irvine's School of Medicine, and member of the school's Center for Occupational and Environmental Health, reveal that the heating element of the vaping device itself can cause lung injury.
In its premier issue in fall 2019, CRx reported on the alarming rise in lung injury cases associated with cannabis purchased on the street or through social sources rather than that obtained from licensed dispensaries. Many of these products contained a combination of THC and vitamin E acetate, the latter of which was used as a thickener and was the suspected link to the chemical lung injury. However, the more recent study shows that the vitamin E oil may not be the primary factor in EVALI.
According to Kleinman, these early results were observed during a larger study on rats underway to explore the effect of e-cigarettes and other vaping product use on the cardiovascular system. While researching, EVALI was observed immediately after the study switched from the use of a vaping device containing a stainless steel heating element to one containing a nickel-chromium (NC) alloy. This change was made when the original device the researchers had been utilizing went off the market. The new device was physically compatible with the original exposure system, but the heating element had changed to NC. The researchers needed to adjust the power in order to maintain the same exposure rate they'd been receiving with the previous device.
That change led to unexpected findings.
"Upon switching devices, we were seeing evidence of severe lung damage in some of the animals so fast—within an hour—that we decided we needed to release our initial findings early to caution users," Kleinman says. "The devastation of the respiratory tract in such a short amount of time is unlike anything I've ever seen with one of our previous studies."
Kleinman says that signs of severe respiratory distress in subjects manifested as labored breathing, wheezing, and panting. Up until the switch in device, none of the test subjects exposed to vapors (with and without additives) had contracted respiratory distress.
"This very acute onset of disease warrants a number of follow-up studies in which we'll be testing at different levels of dose," Kleinman says. "While it's possible that these other doses may have a different effect, it's still very concerning that we got this very violent inflammatory response."
According to Kleinman, the response might suggest that certain devices or certain power settings can play as much a role in developing EVALI as the additives that may be found in cannabis.
"There is a tendency for people to attempt to maximize the dose of whatever they're taking, whether that be cannabis or nicotine," Kleinman says. "They may attempt different breathing methods including holding their breath. They may also attempt to use higher power wattages, which our findings indicate could be very dangerous."
A Glimpse of the Bigger Picture
Of course, even if users don't adjust the device, the shocking findings warrant a better understanding of what's going on inside of these devices. In terms of the heating element, there's also concern about how the coil may age and whether the internal integrity of vaping devices may become compromised. Kleinman says this underscores the importance of proper maintenance of these devices over time.
"I think it's worth raising the question of whether any device that is meant to be used repeatedly over a long period is still fully safe after many uses," he says. "Do the coils degrade at all? Does the efficiency of the wicks change over time? Vaping is still new enough that people probably don't have good information on how to maintain these devices. Perhaps vaping devices need a mandated shelf life before the internal heating element needs to be changed."
Though Kleinman stresses the onus isn't on the physician to determine what type of device patients use, it's certainly a talking point that can be addressed in the patient script.
"Physicians can let their patients know that using a device produced by a reputable manufacturer is important," he says. "This is such a new and growing area that better quality control might be warranted. For now, it's important that patients use common sense. Vaping devices are designed and built to operate within certain parameters, and making any changes to power settings can be potentially risky."
Kleinman adds that physicians can also remind patients to use cannabis as recommended—not beyond the physiological bounds of what might be considered safe.
"Our lungs are a precious resource—something brought to light now more than ever since the COVID-19 pandemic," he says. "As an adult, you only have so many airspaces, and we do lose them over time. Every time that you get a cold or have a respiratory issue, a few of those alveoli sacs are gone, and that's what controls your ability to take oxygen out of the air and put it into the bloodstream. As you age, your lung function naturally decreases. When you smoke, it drastically speeds up the process. While the research on the long-term effects of vaping aren't fully understood yet—it's too new—what we do know about EVALI so far demonstrates the importance of following recommended dosing and using reputable products."
These recent findings stress the importance, more than ever, that patients using cannabis for medical conditions not only obtain the material through reputable dispensaries but that they properly use vaping devices from reputable manufacturers as well.
— Lindsey Getz is an award-winning freelance writer in Royersford, Pennsylvania.