Winter 2021
Trends: Cannabis Delivery to Your Door
Services are delivering convenience and safety.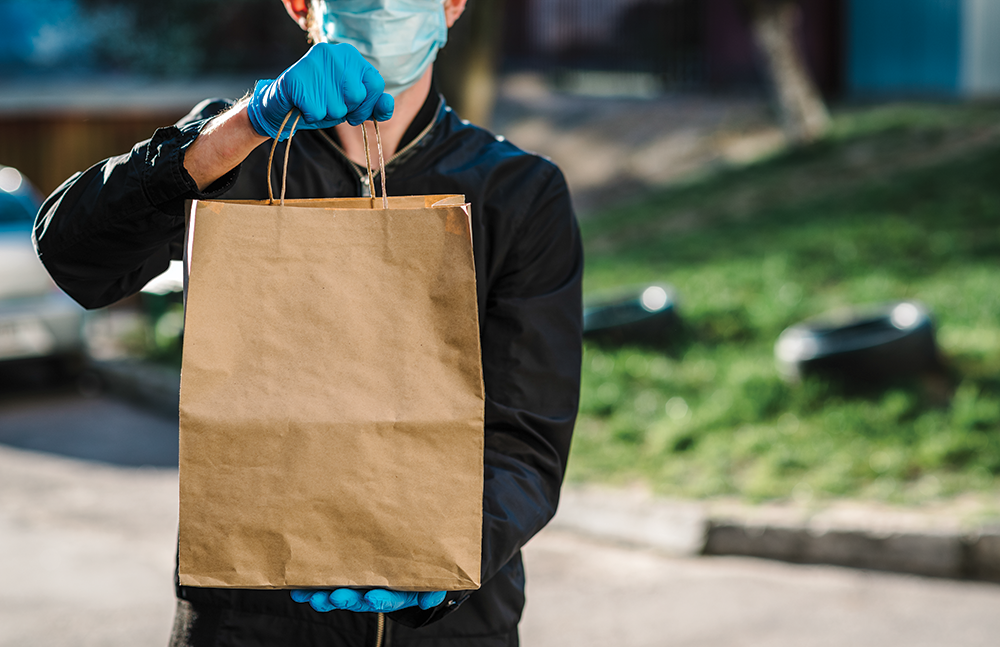 In an era when many consumers rely on click-and-ship shopping—reinforced by a public health threat—the cannabis industry is reaching new consumers by offering home delivery.
Tech + Cannabis
"It's like Amazon," says Bobby Vecchio, CEO, and cofounder of HERB in Los Angeles, one of many online cannabis marketplaces. "Our members sign up online," he explains. "Then they're able to place orders via the website or by phone. We offer free delivery in under an hour, or they can schedule specific times for delivery if they wish."
Millions of transactions have taken place via websites, apps, or phones, and many cannabis retailers offer online chat or phone consultations for customers who need free advice from knowledgeable staff. First-time customers usually set up an account and select a product for their online shopping basket. After purchase, the typical order confirmation appears via e-mail or text, with an alert confirming the order and when to expect delivery. Some drivers require exact cash for payment, and all of them require a valid ID.
There may be various companies involved in fulfilling a customer's order. Some online storefronts are strictly a tech platform—they don't hold a cannabis business license. They're merely providing the e-store experience and are partnering with licensed cannabis retailers. Other companies are simply delivery systems, and delivery licenses are nonexistent. Some licensed cannabis companies have a more traditional marketing model: They take orders, access product from their inventory, then process, package, and deliver directly to their customers.
Finding cannabis delivery is relatively effortless. In addition to Google, sites such as Leafly and Weedmaps yield quick search results for cannabis delivery services in areas where medical or adult-use cannabis is legal.
 "Online customers who receive deliveries are subjected to the same state-specific regulations as they would be if entering a brick-and-mortar cannabis store," explains David Spreckman, director of marketing for Verano, a company of brands that produce high-quality, stringently tested organic cannabis products.
Shoppers are required to be either 18 or 21 years old, depending on state regulations, or accompanied by a registered caregiver, parent, or guardian. After opening an online account, delivery drivers will double-check a customer's valid government-issued photo ID, and in certain states and according to each state's guidelines, they'll also check physician recommendations, a state-issued medical cannabis ID card, or New York State Department of Health registry card, when they encounter the customer in person.
Online stores and delivery personnel can also help educate medical cannabis consumers. MedMen, a dispensary that delivers in states such as Florida, Arizona, and New York, where cannabis use requires a medical recommendation, outlines legal product limits on its website. Its helpful charts help facilitate a greater understanding of what constitutes limit amounts and what that limit looks like in actual product.  These guidelines are sometimes expressed as restricting the limit of product to "8 oz of total cannabis product including flower and concentrate," or "5 g cannabis concentrate, 500 mg of THC in a cannabis-infused product," or as otherwise recommended by a physician or another qualified health care clinician. MedMen and other similar outlets attempt to carefully convert the physician's recommendation to cannabis product and then digitally track each consumer's consumption within its computer system. Many online storefronts contain helpful FAQ pages that patients may refer to for various topics, including locating health care resources.
Relationship: Doctor, Patient … and the Delivery Guy
"We have several physicians who regularly refer their patients to us," Vecchio says. "They've come to rely on us because we stock a lot of higher-quality products and specialized products that contain the specific cannabinoids, as well as specific ratios of cannabinoids, that health care professionals want for their patients." Vecchio says that when a new patient phones HERB, "we're able to match a product to the doctor's recommendation for them." This contribution to the patient's welfare is essential. HERB carries more than 400 cannabis products in its inventory, and Vecchio says the company is expanding its stock as new products become available. "Our philosophy is offering quality over quantity," Vecchio says. "We put a lot of emphasis on responsibly grown and locally sourced products."
Physical dispensaries, online retailers, and some delivery people are able to extend education beyond product recommendation. "When a new patient comes to us, we do a consultation with them and spend as much time as they want to answer their questions," Spreckman says. "If we're meeting them in person, we'll provide a folder full of specific information about how cannabis may impact the symptoms or illness for which their doctor is recommending this therapy. We discuss issues, such as do they need a product for daytime or nighttime use, or whether they need a product that is vegan or gluten-free, and we assist them in strategically choosing a product from our menu."
A Safer Source
During the COVID-19 pandemic and beyond, home delivery of medical cannabis promises a safer way for patients to access this plant therapy, which has become vital to many. "In most states, the majority of places were required to close, but cannabis dispensaries were deemed essential businesses," Spreckman says. "A patient's medical credentials are tied to the transaction within the system when the order is placed, and the staff member verifies their ID when the delivery is made. The online shopping experience has become increasingly important, especially over the last few months, with people staying in isolation. A wide variety of cutting-edge, premium-quality products are displayed online, and it's easier than ever to find what you're looking for with the advanced functionality of menus that we have in place."
An industry news resource, Marijuana Business Daily, reported a vigorous increase in sales toward the beginning of the COVID lockdown in March 2020. Eaze, a California-based cannabis company that offers delivery, experienced a growth of 30% in its customer base and sold more products per order. The article related that medical marijuana treatment centers in Massachusetts allowed patients to acquire 60-day supplies. In Michigan, Governor Gretchen Whitmer issued an executive order permitting all licensed marijuana retailers to provide home delivery. The New York State Department of Health permitted registered organizations to begin delivering medical cannabis, without the usual need for obtaining written permission.1

The article also indicates that cannabis delivery services have implemented many safety policies to protect their employees and customers and to ensure that the orders keep coming. Some took the temperatures of drivers before beginning a shift. "We've been far busier during COVID; our sales are up 50%," Vecchio says. "We take a lot of safety precautions. All of our drivers are wearing masks and gloves, and we're sanitizing hands, surfaces, phones and terminals between each delivery. We have a no-touch ID verification and use chip credit card payments instead of the customer passing a credit card to the delivery person."
Vecchio believes cannabis home delivery will continue to expand. "I think as time passes and cannabis is rescheduled or legalized federally, we'll quickly have even more studies showing clinical evidence to support the claims that we hear from patients every day. In my two decades in this industry, I've seen so many lives transformed by this plant. When we interact with patients, they tell us—without any solicitation—how cannabis is the only thing that helps reduce discomfort and increase quality of life during chemotherapy, or a terminal illness. Our delivery drivers and other team members hear compelling anecdotal stories all of the time of how this plant has replaced pharmaceutical drug use and brought countless benefits to our members."
— Michele Deppe is a freelance writer based in upstate South Carolina.