Winter 2021
The Buzz: Cannabis Vending Machines
Is this new distribution method a slippery slope?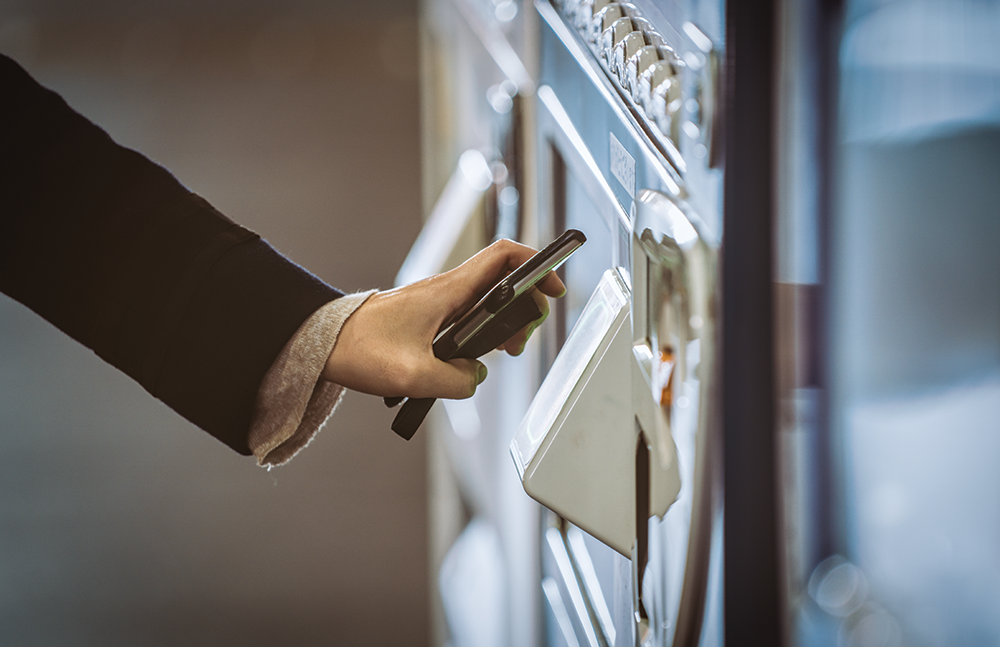 Does the future of cannabis dispensing lie in vending machines? The emergence of several cannabis vending machines on the market raises some questions—and concerns—as to whether this is truly is the way forward in the medical cannabis landscape.
Those in favor say cannabis vending machines make dispensing more convenient and efficient. Massachusetts-based company anna, which has garnered a lot of recent press as the world's first artificial intelligence–powered cannabis vending machine, debuted in Colorado last summer. At press time, anna machines are available at two dispensary locations, but the company has announced plans to expand.
Though perhaps the most well known, anna is far from the only cannabis vending machine trying to make a name for itself. Florida-based WellMation got started in vending with the development of dispensing machines for pharmacy but ultimately shifted gears to focus on cannabis by partnering with KIOSK Information Systems, a self-service kiosk manufacturer. WellMation contracted with KIOSK to design, engineer, and build a new unit and was deploying kiosks at press time.
Ryan Flynn, product manager for WellMation, says that self-dispensing vending machines are the future of distribution. While Colorado is already primed for regulation to allow for vending to fall within their medical and recreational rules, he says the big question is how long it will take for other states to follow suit.
"It's going to come down to a state-by-state regulatory environment with different rules in different places, and that's obviously a hurdle for vending distribution," Flynn says. "But I think there's a demand for this, and it's not going to fade."
Flynn says the desire for minimal human contact, ramped up by the COVID-19 pandemic, has created more demand for a streamlined, no-contact process.
"For the patients who know what they want and what they can get, they desire convenience—and vending delivers that," Flynn says. "They want to get their card, visit a machine, and get their product. They want to be 'in and out' quickly."
Is No Human Contact a Good Idea?
While touted as a benefit, the lack of human contact is exactly what has many concerned about the idea of cannabis vending.
Leslie Apgar, MD, medical director for Greenhouse Wellness, Blissiva, and Pura Vida Med Spa, a medical spa in Fulton, Maryland, says she foresees vending as potentially removing important checks and balances.
"I agree that we need a streamlined system, but I feel we can make it both safe and efficient without removing all human contact from the dispensing process," she says. "We don't buy beer in a vending machine, and there's a reason for that. This is a mind-altering substance, and there are a lot of vulnerable patients and people on medications or with medical conditions that need to be extremely cautious about what they purchase. I think that with a vending system, you're really increasing the risks."
Apgar says the dispensing process at Greenhouse Wellness is already streamlined. It limits contact in compliance with social distancing mandates put in place during the pandemic but doesn't remove vital checks and balances that are in place for patient safety.
"We have switched to a 100% curbside model," she explains. "Patients have online consultations through a video conferencing platform, but then we're handpicking the product for them. We perform all of the checks ahead of time, and when the patient pulls up, they show us their photo IDs or medical cannabis cards. We verify that they are who they say they are, and they receive their cannabis. Everyone is masked, gloved, and we're using walkie talkies. It's fast—but more importantly, it's safe."
While some patients may want a limited contact experience, Apgar also believes that removing the customer service aspect of dispensing is problematic. Dispensaries are providing a high level of education, and even well-informed patients are often continually learning from advice and guidance offered.
"Perhaps in a recreational market, a vending machine inside of a dispensary—where you still have to show credentials to get inside—could have some utility," Apgar says. "For the seasoned, educated consumer who knows exactly what they are looking for, a vending machine might offer some convenience. But even these individuals can really benefit from the level of education imparted by dispensary staff. I think this diminishes the value of what cannabis is for those who use it medicinally, as it discounts the need for education."
In terms of removing checks and balances, Flynn says safety measures are in place. He says the technology these days allows for improved detection of fake IDs—which, he argues, is better than the traditional human check. WellMation is planning to implement this technology into their units.
He adds that vending machines will only go as far as the regulatory guidelines allow.
"These units today are located within existing dispensaries, so it follows all existing processes," he says. "This is all controlled by regulatory frameworks."
Looking Ahead
According to Flynn, the regulatory framework makes vending challenging because the regulations can differ from state to state. It's not going to be a fit everywhere, and there's still a long way to go before vending machines become commonplace.
"We know there's not going to be this overnight change to self-dispensing vending instead of going to the dispensary," he says. "But this is something that has its place. It's not as crazy an idea as some may think. We're only going to see more and more of this in the future."
Apgar says there's no question "technology will continue to push the envelope." However, she's concerned about just how far things may go. She sees vending machines as a path toward reducing the value of the well-educated dispensary—and that's a serious problem.
"I think the pandemic has put a lot of pressure on technology to do things that perhaps we are not ready to do—and self-dispensing vending machines for cannabis is a prime example," she says. "I do think there is room for improvement. The experience at some dispensaries may be less than optimal—but I do not see widespread vending as the answer. I think the risks outweigh the potential benefits. Human interaction is the most important aspect of cannabis dispensing, and removing that is a slippery slope. Nobody is as educated on cannabis as they need to be, and I can't imagine a marketplace where we replace the guidance and instruction that comes from a dispensary with a self-service model."
— Lindsey Getz is an award-winning freelance writer in Royersford, Pennsylvania.