Winter 2021
Hope for Fibromyalgia Sufferers
Can cannabis bring relief for the chronic pain associated with this debilitating disease?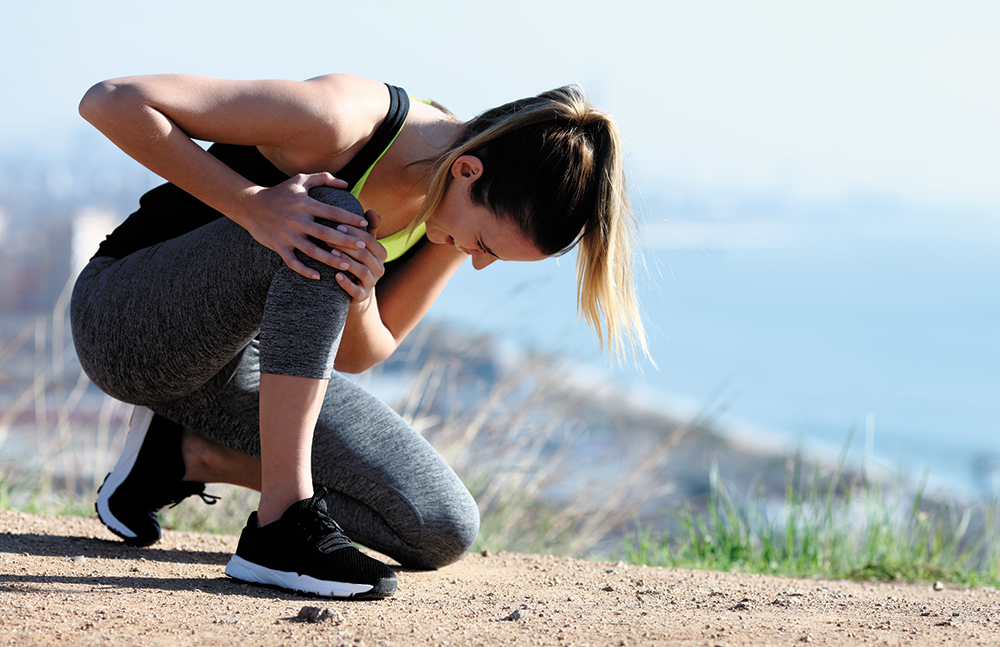 If you're a provider caring for patients with fibromyalgia who are plagued by excessive pain, mood swings, anxiety, and depression, you know how life-altering the symptoms may be and how difficult it can be to get these symptoms under control. But clinical evidence is beginning to support the anecdotal reports that patients have been relating for so long—that cannabinoid therapy can be a useful tool for managing the symptoms of fibromyalgia.
An Overview
Fibromyalgia is a chronic pain condition categorized by widespread musculoskeletal pain and extreme sensitivity to pressure. It's unclear how many people live with fibromyalgia, as different resources report different numbers. The Centers for Disease Control and Prevention claims fibromyalgia affects 4 million US adults,1 the National Institutes of Health 5 million US adults, and the National Fibromyalgia Association 10 million adults. What is known is that women are twice as likely as men to be affected.
Fibromyalgia is a complicated condition, and its etiology is unknown, making diagnosis and effective treatment difficult in some cases. In order to be diagnosed with fibromyalgia, one must be assessed according to the fibromyalgia classification criteria developed by the American College of Rheumatology. The diagnostic criteria include widespread pain accompanied by symptoms such as fatigue and brain fog for a minimum of three months. The National Fibromyalgia Association recommends that a physician knowledgeable about the disorder make the diagnosis, as it's often misdiagnosed or undiagnosed. While a lot remains unknown about the condition, it's clear that interruptions in sensory pathways of the brain, spinal cord, and nerves cause patients to suffer from abnormal, intensified pain sensations.2 
Fibromyalgia is misunderstood and often misdiagnosed for several reasons. Its unknown etiology makes it challenging to determine when and why a person has developed the disease. Additionally, a multitude of physical and psychological symptoms can overlap with those of other chronic conditions.2 The most common symptoms include widespread pain and stiffness; fatigue and tiredness; sleep deprivation; depression and anxiety; mood instability; problems with thinking, memory, and concentration; and headaches, including migraines.1 In addition, debilitating symptoms are often vague and transient, leading some sufferers' complaints to be labeled as psychosomatic.
Since there's no known cure, conventional treatment options for fibromyalgia target symptom relief—prescription and nonpharmacological approaches or a combination of therapies. Many prescription medications, including mild pain killers, opiates, muscle relaxants, antidepressants, and antiseizure drugs, are used. Lyrica, Cymbalta, and Savella have been approved by the FDA for the treatment of fibromyalgia. Alternative, nonpharmacological therapies include aerobic exercise, cognitive behavioral therapy, massage therapy, acupuncture, chiropractic, yoga, herbs, and nutritional strategies.
Many patients report the ineffectiveness of multiple pharmacotherapeutic interventions, noting little to no long-term benefit.2 It's not surprising, then, that patients increasingly turn to medical cannabis as an alternative therapeutic approach to managing their symptoms, and many report positive results.
In an Israeli study, 84% of the 2,705 members of a fibromyalgia Facebook group acknowledged using cannabis to manage fibromyalgia symptoms. Of those in this segment who claimed cannabis use, 94% reported pain relief, 93% improved sleep quality, 87% decreased depression, and 62% decreased anxiety.3
These anecdotal reports are accompanied by emerging clinical evidence to support the use of medical cannabis to manage and treat fibromyalgia. Evidence supports the theory that the disease could be the result of a clinical endocannabinoid deficiency (CED). Such deficiency negatively affects the endocannabinoid system (ECS), ultimately affecting every system the ECS controls.
To give patients the best recommendations for treating fibromyalgia with medical cannabis, clinicians must first look deeper into the ECS and its potential role in fibromyalgia. With a deeper understanding of the ECS, they will be better equipped to understand why patients choose to use cannabis for symptom management and to recommend medical cannabis to their patients.
CED
The ECS is a network of messengers, cannabinoid receptors, and related enzymes. This complex system has a profound influence on many physiological processes, affecting nearly every aspect of the human experience, from memory and pain to stress and reproduction.4 The ECS varies widely from person to person, resulting in what's known as an endocannabinoid "tone," a term coined by Ethan Russo, MD. Many physiological and external factors can affect endocannabinoid tone. When the endocannabinoid tone becomes deficient, a CED may occur, resulting in dysfunction within the body.2
Russo's theory is supported by emerging evidence that an underlying endocannabinoid deficiency may be the root of several mysterious or complicated conditions including fibromyalgia, migraines, irritable bowel syndrome, and other treatment-resistant syndromes. Russo's clinical data have provided evidence for the beneficial use of medical cannabis in conjunction with adjunctive lifestyle approaches for these conditions alongside depression, multiple sclerosis, Parkinson's disease, and more. Altering the tone of the ECS in individuals with suspected CED may result in decreased pain and improved sleep.2
The Clinical Evidence
Published clinical evidence supports the use of cannabis as a therapeutic agent for the management of fibromyalgia symptoms. A critical review of recent studies from 2015 to 2019 of cannabinoids for fibromyalgia pain published in the Journal of Cannabis Research identified five studies published in peer-reviewed journals involving 827 participants who used six different treatments. The authors of the selected studies collectively suggest that medical cannabis is a safe and effective treatment option for patients with fibromyalgia.5
The individual results showed significant improvements in pain intensity/severity, sleep quality, level of depression, anxiety, and overall quality of life. While the study seems to support the evidence clinicians often see in practice, this critical review ultimately made no final recommendation; the authors noted serious methodological limitations that precluded them from drawing firm conclusions about the efficacy of cannabis use for fibromyalgia pain.5
Among the studies reviewed in the case above, the most promising, published in 2019 in the Journal of Clinical Medicine, examined the safety and efficacy of cannabis use for fibromyalgia. The prospective observational study followed 367 fibromyalgia patients for six months and demonstrated overwhelmingly positive results supporting the use of cannabis to treat fibromyalgia symptoms. It concluded that "medical cannabis appears to be a safe and effective alternative for the treatment of fibromyalgia symptoms."6
Fibromyalgia as a Qualifying Condition for Medical Cannabis
While we await more evidence about the use of cannabis for fibromyalgia, the condition already is being treated by medical cannabis programs across the country. More than 30 states have medical cannabis programs in place, and nearly all list chronic pain as a qualifying condition, with some specifically noting fibromyalgia. Other states such as New York leave its use up to the discretion of the provider, noting as qualifying conditions chronic pain and "pain that degrades health and functional capability as an alternative to opioid use or substance use disorder."7
One of the most promising reasons to continue to study the efficacy of cannabis use to treat fibromyalgia is that it can be a much safer alternative to opioids, which are commonly prescribed to manage the pain. The aforementioned 2019 Journal of Clinical Medicine study, "Safety and Efficacy of Medical Cannabis in Fibromyalgia," indicated that the use of cannabis to control fibromyalgia symptoms had very few, very mild negative side effects. These included dizziness experienced by 7.9%, dry mouth experienced by 6.7%, and gastrointestinal symptoms experienced by 5.4% of participants.6
Opioids are often prescribed for the management of fibromyalgia pain. An effective intervention for some, opioids can have devastating, life-altering side effects for others. A clinical research study published in the American Journal of Medicine examined the most common fibromyalgia treatment option, prescription opioids, and their efficacy. Of the 457 patients treated at the fibromyalgia clinic, nearly one-third were treated with opioids, with two-thirds of those using what were characterized as "strong opioids." The study noted that opioid use was associated with "lower education, unemployment, disability payments, current unstable psychiatric disorder, a history of substance abuse, and previous suicide attempts." The researchers observed adverse health and psychosocial status in patients using opioids.8 These hazards highlight the need for clinician education about the cannabis therapy options available. By being aware of all treatments, they can best guide their patients and clients toward a treatment that eases their symptoms while producing a minimum of negative side effects.
Practical Recommendations for Clinicians
The potential role of a CED in fibromyalgia should remain top of mind for health care professionals who treat patients with fibromyalgia. Patient-centered care demands that no two patients should be treated in the same way. Equally, clinicians must remember that no two ECSs can be treated the same. While there are some general guidelines for introducing a patient to cannabis use, it's crucial to tailor individual recommendations for their unique circumstances. Addressing and correcting a CED involves introducing phytocannabinoids to the body through cannabis consumption. When phytocannabinoids are introduced, the consumed cannabinoids, such as CBD and THC, interact with cannabinoid receptors located throughout the body. The ECS also interacts with terpenes and other compounds consumed through cannabis.
While it seems simple, this process often requires patience and willingness to experiment to find the ideal application method and dose. Each patient reacts differently to the various combinations and ratios of cannabinoids and terpenes unique to each strain of the plant. Clinical evidence points both to cannabinoids and terpenes as mediators of disease. Many theories suggest that it's the entourage effect—the potential cannabis synergy and complementary pharmacological activities between phytocannabinoids and terpenoids—that has the greatest likelihood of producing the most significant reduction in systemic pain and other symptoms.9 For clinicians, this suggests that whole-plant, full-spectrum cannabis products likely will produce the most significant results for patients. This also points to the importance of looking into various terpene profiles and the potential health benefits they may hold.
 Preclinical evidence supports the idea that terpenoids can provide adjunctive support to the mechanisms of the cannabinoids. Furthermore, evidence "supports the concept that selective breeding of cannabis chemotypes rich in ameliorative phytocannabinoid and terpenoid content offer complementary pharmacological activities that may strengthen and broaden clinical applications and improve the therapeutic index of cannabis extracts."9 It's crucial that health care providers understand that a CED can be treated with the appropriate cannabis therapy approach. Working with patients to trial various cannabinoid ratios, application methods, and dosages, clinicians can find a solution that provides optimal pain and symptom relief without unwanted side effects.
— Emily Kyle, MS, RDN, CDN, CLT, HCP, is a registered dietitian nutritionist and certified holistic cannabis practitioner. As a three-time published cookbook author, she combines the medicinal, nutritional, and culinary aspects of cannabis use through the creation of detailed cannabis-infused recipes. She advocates for responsible adult-recreational cannabis use and shares her published resources at EmilyKyleNutrition.com and on Instagram at @EmilyKyleNutrition.
References
1. Fibromyalgia. Centers for Disease Control and Prevention website. https://www.cdc.gov/arthritis/basics/fibromyalgia.htm. Updated January 6, 2020.
2. Russo EB. Clinical endocannabinoid deficiency reconsidered: current research supports the theory in migraine, fibromyalgia, irritable bowel, and other treatment-resistant syndromes. Cannabis Cannabinoid Res. 2016;1(1):154-165.

3. Habib G, Avisar I. The consumption of cannabis by fibromyalgia patients in Israel. Pain Res Treat. 2018;2018:7829427.
4. Fonseca FRD, Arco ID, Bermudez-Silva FJ, Bilbao A, Cippitelli A, Navarro M. The endocannabinoid system: physiology and pharmacology. Alcohol Alcohol. 2004;40(1):2-14.

5. Cameron EC, Hemingway SL. Cannabinoids for fibromyalgia pain: a critical review of recent studies (2015–2019). J Cannabis Res. 2020;2(1).

6. Sagy I, Bar-Lev Schleider L, Abu-Shakra M, Novack V. Safety and efficacy of medical cannabis in fibromyalgia. J Clin Med. 2019;8(6):807.
7. Information for patients. New York State Department of Health website. https://www.health.ny.gov/regulations/medical_marijuana/patients/. Updated April 2020.
8. Fitzcharles MA, Ste-Marie PA, Gamsa A, Ware MA, Shir Y. Opioid use, misuse, and abuse in patients labeled as fibromyalgia. Am J Med. 2011;124(10):955-960.
9. Russo EB. Taming THC: potential cannabis synergy and phytocannabinoid-terpenoid entourage effects. Br J Pharmacol. 2011;163(7):1344-1364.