Fall 2021
Basics: Delta-8-THC — Shedding Light on a Mysterious Cannabinoid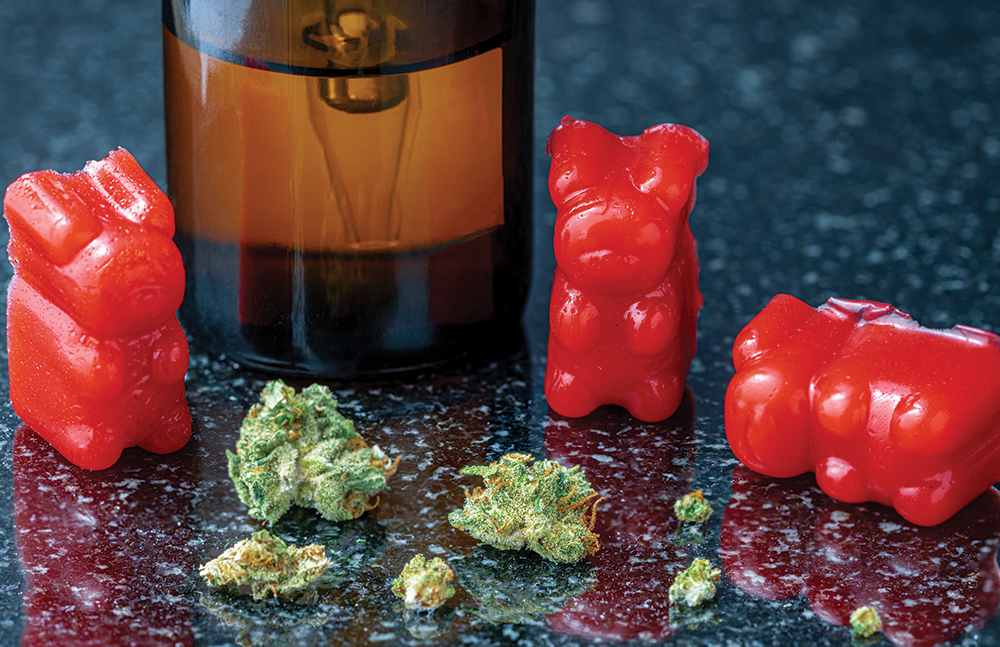 There's been a recent rise in the popularity of delta-8-THC, and everyone involved in medical cannabis is intrigued and raising questions. What is delta-8-THC, and how is it different from the common delta-9-THC? What are its effects? Where is it sold? And is it legal? There are conflicting answers to these questions depending on the source, but the following information provides perspective on this mysterious cannabinoid.
Scientifically and Medicinally Speaking
Delta-8-THC is an isomer of delta-9-THC. This means they have an identical molecular formula, C21H30O2, allowing them to bear almost identical structures, except for the placement of one double bond. This double bond creates a more stable structure for delta-8-THC so it's more resistant to degradation and has a slightly higher point of vaporization.1 Stable compounds are more desirable targets for drug development, making delta-8-THC a better target structure for phytocannabinoid-inspired pharmaceuticals.2,3 Delta-8-THC binds to cannabinoid receptors with slightly less affinity than delta-9- THC, which may explain why the psychoactivity or intoxicating properties of delta-8-THC are much less.4,5
Delta-8-THC's pharmacologic effects are similar to those of delta-9-THC; it's been shown to be an antiemetic, anxiolytic, appetite stimulant, analgesic, and neuroprotectant.6 Both cannabinoids are believed to share similar absorption, distribution, metabolism, and elimination patterns in the human body.7 However, delta-8-THC is a minor cannabinoid, occurring naturally in only trace amounts, so it's unlikely to be extracted directly from the cannabis plant for economic reasons.1 This may be why there's still a great need for more information regarding delta-8-THC, despite the already limited research on cannabinoids.
Where and How It's Sold
Delta-8-THC–infused gummies, chocolates, cartridges for vaporization, concentrates, capsules, and topicals, as well as joints, flower, and moon rocks are available at CBD stores, online outlets, or vape shops. It's available in essentially every dosage formulation possible.
As previously mentioned, delta-8-THC isn't present in the cannabis plant in very large quantities, but CBD, which is abundant, can produce greater yields in comparison. Once CBD is extracted from hemp, it can be chemically manipulated into delta-8-THC by providing an acidic environment with a strong acid. The literature indicates that p-toluenesulphonic acid will produce quantitative yields.8 However, online retailers of delta-8-THC state that sulfuric acid (H2SO4) or zinc chloride (ZnCl2) will also do the trick.9 With time and a few additional steps, a substantial amount of delta-8-THC can be synthesized.
The resulting delta-8-THC distillate oil is then used for the final product, whether it's infused into an edible or topical, used for cartridges and concentrates, or used for dry flower products in their final form. Remembering that delta-8-THC is scarcely present in the cannabis plant, how are storefronts selling delta-8-THC dry flower products? The delta-8-THC distillate is sprayed onto CBD or cannabigerol buds harvested from hemp, and the resultant product is marketed as delta-8-THC flower. In the case of moon rocks, the distillate-soaked buds are then rolled in kief produced by hemp plants.
At adult use or medical cannabis dispensaries, delta-8-THC is available as cartridges for vaporization, concentrated distillate syringes, and tinctures. Dosage formulations seem to be more limited in these programs but that may be because the highly sought-after cannabinoid delta-9-THC is legal. Growers and processors are able to cultivate delta-9-THC in flowering plants and then chemically transform it into delta-8-THC through similar conversion methods. Extractionists in this part of the cannabis industry tend to be vague with their methods because they consider that proprietary information.
Addressing Product Safety
In adult use and medical cannabis programs, products must undergo laboratory testing, whether it's before extraction, once the final product is made, or both. This is to ensure that products are safe for consumption, based on the current information available regarding the safety of consuming cannabis. Testing parameters include the cannabinoid and terpene potency, microbials, mycotoxins, moisture content, heavy metals, residual solvents, pesticides, and foreign material. Specific testing requirements vary depending on the individual program. In many states, the product can't be extracted if it doesn't pass the first round of testing, even though it can be remediated or removed of impurities during the extraction process. Certificates of analysis bearing the testing results are provided to dispensaries with each product and parts of the information are often required on the package labeling.
With respect to delta-8-THC in CBD boutiques or vape shops, the same isn't always true. Not every product that's sold has been tested for safety parameters or product strength. If a consumer is lucky enough to find a product that comes with a certificate of analysis, they should be advised to read it closely. Potency information may be available, but not every safety parameter may have been assessed. The possibility of bacteria, fungi, or residual solvents therefore is unknown. Disregarding safety precautions conflicts with the FDA's guidelines, as foods, drugs, and cosmetics fall under the agency's jurisdiction for ensuring that these products are safe, efficacious, and secure.
The Legal Issues
There isn't a simple answer as to whether delta-8-THC is legal, as several governing bodies and laws are responsible for overseeing its production, extraction, and dispensation to the public.
In December 2018, the most recent Farm Bill was signed into law, redefining hemp and allowing states and tribes to propose plans enabling producers to grow hemp legally. Under the bill, the term "hemp" refers to the plant species Cannabis sativa L. and any part of the plant. This includes the seeds and all derivatives, extracts, cannabinoids, isomers, acids, and salts, whether growing or not. The only catch is that the delta-9-THC concentration can be no more than 0.3%.10
To summarize, as long as states are following the protocols of the US Department of Agriculture, it's legal to cultivate hemp. The hemp must be tested by an approved laboratory to ensure that the total THC concentration (delta-9-THC plus tetrahydrocannabinolic acid) doesn't exceed 0.3%. If it does, it must be discarded by appropriate methods as determined by the Drug Enforcement Administration (DEA).
C sativa L. with a total THC level exceeding 0.3% is considered "marijuana," which remains classified as a Schedule I controlled substance and regulated by the DEA under the Controlled Substances Act (CSA). The CSA specifically lists "tetrahydrocannabinols," identifying delta-9-THC, delta-8-THC, and the lesser-known delta-6a(10a)-THC, whether they're naturally contained in the cannabis plant or are synthetic equivalents, derivatives, or isomers with similar chemical structures and pharmacological activity. The CSA also includes "marihuana," "marihuana extract" containing one or more cannabinoids, and cannabimimetic agents under Schedule I, but excludes hemp as defined by the Farm Bill.11 Anyone who proposes to engage or actively engages in the manufacturing, distributing, dispensing, importing, or exporting of any controlled substance is required to obtain a registration with the DEA in order to lawfully participate, unless they're operating within their state's adult use or medical cannabis programs.
Discussion
Unless the delta-8-THC has been extracted directly from the cannabis plant, it's highly probable that the product is neither safe nor legal. The only exception is if the product is purchased from an approved operator in a state with medical cannabis or adult use legislation. The rules and regulations for these programs vary from state to state and may provide different guidance than the Farm Bill surrounding the extraction and processing of cannabis. It's within these programs' jurisdictions to authorize or restrict the chemical manipulation of cannabinoids.
Unfortunately, unregulated brick-and-mortar stores and online boutiques believe that they're operating in a legal gray area and continue to misinterpret and misinform the public. Several states are beginning to be concerned regarding delta-8-THC sales, and the US Hemp Authority announced at the end of March 2021 that hemp products marketed for intoxication won't be certified. Perhaps in the future, as more information and research becomes available supporting the medicinal properties and safety profile of cannabis, existing legislation may be amended or new bills will become laws to definitively indicate a legal status of delta-8-THC.
— Joseph Friedman, RPh, MBA, is a certified medical cannabis pharmacist practitioner, a former owner of a medical cannabis dispensary in Illinois, and is on the board of directors of the International Society of Cannabis Pharmacists at cannabispharmacist.org/board-of-directors.
— Lauren Vrabel, PharmD, is a cannabis pharmacist currently practicing in the PA Medical Marijuana Program. She has an insatiable desire to learn about the science behind the cannabis plant and enjoys educating patients, health care professionals, and pharmacy students on the endocannabinoid system.
References
1. World Health Organization. WHO Expert Committee on Drug Dependence pre-review: isomers of THC. https://www.who.int/medicines/access/controlled-substances/Section1-iso-Chemistry.pdf. Published 2018.
2. Hanuš L, Meyer S, Muñoz E, Taglialatela-Scafati O, Appendino G. Phytocannabinoids: a unified critical inventory. Nat Prod Rep. 2016;33(12):1357-1392.
3. Stern E, Lambert D. Medicinal chemistry endeavors around the phytocannabinoids. Chem Biodivers. 2007;4(8):1707-1728.
4. Busch-Petersen J, Hill W, Fan P, et al. Unsaturated side chain β-11-hydroxyhexahydrocannabinol analogs. J Med Chem. 1996;39(19):3790-3796.
5. Huffman J, Liddle J, Yu S, et al. 3-(1′,1′-Dimethylbutyl)-1-deoxy-Δ 8 -THC and related compounds: synthesis of selective ligands for the CB 2 receptor. Bioorg Med Chem. 1999;7(12):2905-2914.
6. Delta-8-tetrahydrocannabinol. National Cancer Institute website. https://www.cancer.gov/publications/dictionaries/cancer-drug/def/delta-8-tetrahydrocannabinol. Accessed April 1, 2021.
7. The use of cannabis. United Nations, Office on Drugs and Crime website. https://www.unodc.org/unodc/en/data-and-analysis/bulletin/bulletin_1972-01-01_1_page003.html. Published January 1, 1972.
8. Mechoulam R. Chemistry of cannabis. In: Hoffmeister F, Stille G, eds. Psychotropic Agents: Part III: Alcohol and Psychotomimetics, Psychotropic Effects of Central Acting Drugs. New York, NY: Springer-Verlag; 1982:119-134.
9. Beebe J. Converting CBD to delta 8 THC, is it possible? SOP. Hempvada website. https://www.hempvada.com/blogs/cbd-blogs/converting-cbd-to-delta-8-thc-is-it-possible-sop. Published September 5, 2020. Accessed April 11, 2021.
10. Department of Agriculture, Agricultural Marketing Service. Establishment of a domestic hemp production program. Fed Regist. 2019;84(211):58522-58564.
11. Department of Justice, Drug Enforcement Administration. Interpretation of listing of "tetrahydrocannabinols" in Schedule I. Fed Regist. 2001;66(195):51529-51534.