Winter 2020
Beyond the Smoke: Cannabis Libations
From coffee to cocktails, cannabis is turning up in virtually all types of beverages. What do your patients need to know about this new breed of drink?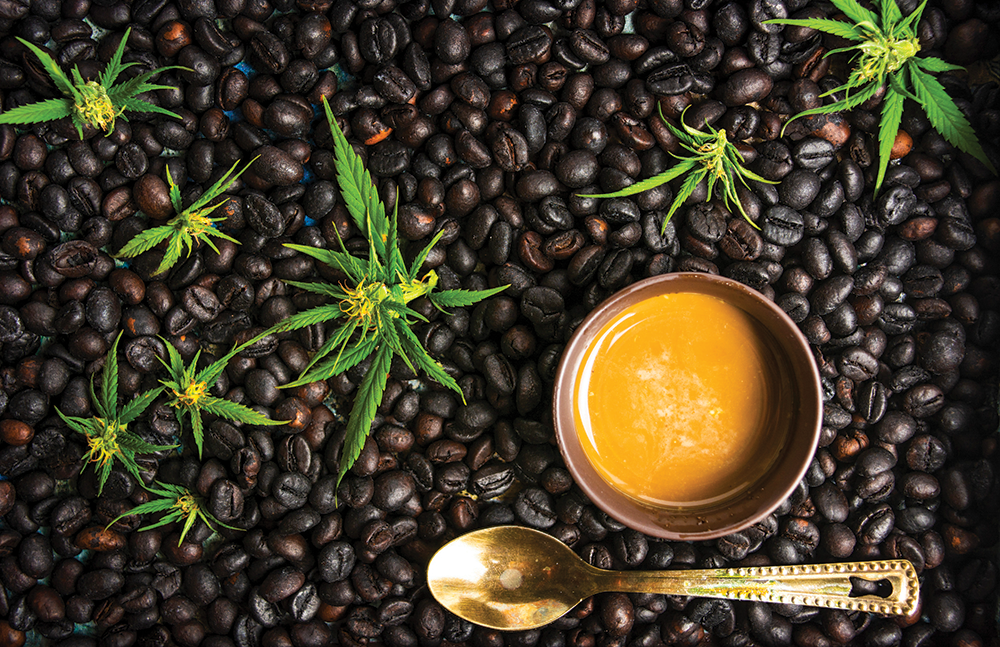 In April 2019, Forbes magazine ran the headline: "Drink Up: The Next Frontier in Cannabis Is Beverages." The article predicted that the canna-beverage industry could reach $1.4 billion by 2023.1 Shortly thereafter, the Beverage Trade Network hosted the first Cannabis Drinks Expo in San Francisco, where more than 80 companies exhibited.
Interestingly, most of the cannabis-infused drinks are positioning themselves in the health and wellness space, targeting those who need a mid-day pick-me-up or an evening wind-down. For instance, Recess, a sparkling water infused with hemp and adaptogens, claims, "Not tired, not wired … It's how you wish that 2 PM coffee would make you feel."2
Yet, as fast as the category is growing, the big beverage players such as Coca-Cola are putting the brakes on their preliminary investigations into cannabinoid-infused beverages because of the complex legal and regulatory environment.
Drinking cannabis is not a novel concept. Some of the earliest writings about cannabis refer to beverages such as Bhang Lassi in India and Mafeisan in China, which were made by grinding cannabis leaves to a powder or boiling them in water, adding other herbs and diluting with more water, milk, or alcohol and used medicinally or as part of a ceremony.
Today, technology is being developed that allows cannabinoids to be added to just about any type of beverage to ensure they're dispersed evenly and to improve bioavailability. There are still challenges, however, especially when it comes to flavor, other ingredients, dose, and intended benefits.
Challenges
The first and probably most significant challenge of adding cannabinoids to beverages is that they are lipid or fat based, which makes them difficult to mix into a water-based solution.3 Without some type of encapsulation, they will float on top of the liquid, which is not desirable in a beverage.
As single cannabinoid isolates have become more available, encapsulation has become a viable option to keep cannabinoids suspended in solution, but it, too, has drawbacks. Most notably, isolates are just that, single cannabinoid molecules like CBD or THC; they do not contain the mix of cannabinoids and terpenes found in whole-flower extracts. Therefore, beverages that contain CBD or other isolates may not provide the same benefits as whole-flower extracts.
A second challenge concerns flavor. Whole-flower extracts contain cannabinoids and terpenes, which contribute to a funky taste and odor. As many of these products are targeted at consumers who may not be (or want to be) familiar with the natural flavor of cannabis, the funky flavor can be off-putting and dissuade consumers from trying the drinks again. That said, many of the whole-flower extract products on the market today incorporate heavy (often artificial) flavors and a lot of sugar to mask the cannabis flavor. Because the targeted health and wellness consumers are looking for products with a cleaner label and more healthful appeal, many producers opt for the cannabinoid isolates, again, calling into question the true benefit of these beverages.
A further challenge is that the intended benefit depends on dose and bioavailability of cannabinoids, which leads to an even bigger obstacle: price. A quick review of products available in one Colorado dispensary reveals a dose range from 0 mg to 100 mg of THC and 0 mg to 100 mg CBD per container. The price range is just as wide: from $5 to $15 for a single-serve bottle or can. For the most part, price follows cannabinoid type and content, with those products high in THC as the most expensive and those with no THC and lower amounts of CBD in the lower cost range.
It's well known that the bioavailability of cannabinoids when consumed through an edible product is less than that when inhaled, typically around 10% to 20%.4 However, cannabinoids in beverages may not act exactly like edibles, and as technology advances, it may be discovered that beverages are an unique administration method in themselves. In fact, using a nanoemulsion (encapsulating cannabinoids in very, very small particles to keep them suspended in solution) appears to multiply bioavailability of orally ingested cannabinoids by four to five times. This is because using nanoemulsions makes cannabinoids in beverages act more like tinctures than edibles because most of the cannabinoids are absorbed through the mouth and esophagus and do not go through first-pass liver metabolism as with other edibles.3
One final challenge of cannabis in beverages is stability. Cannabinoids are inherently unstable and must be protected by an emulsifier and proper storage conditions to maintain bioactivity.3 These emulsifiers can affect the flavor, appearance, and texture of a beverage. And storage conditions during transport and on the shelf at retailers can differ, which means the actual quantity of bioactive cannabinoids can vary from the labeled amount as well as from container to container.
Practical Advice
Beverages containing cannabinoids are a simple and discreet way to entice new customers into the world of cannabis for health and wellness. Unfortunately, the challenges noted may limit the actual benefits consumers experience.
First and foremost, it's important to recognize that beverages are not the same as edibles. Where there's some research and much anecdotal evidence that edible cannabis products can be used to treat conditions such as chronic pain, cancer-related symptoms, and anxiety, there's no science and very little practical experience using cannabinoid-containing beverages to treat any condition.
While it can be assumed that some of the cannabinoids that are ingested go through the same metabolic process as do those in edibles, with advancing technology, a portion of those cannabinoids may be absorbed directly into the bloodstream and act in the manner of a tincture instead. Second, beverages are easy to consume in large amounts. Although price may keep clients from consuming too much, availability and ease of consumption may lead to overconsumption.
That said, the same rule that applies to edibles should be applied to beverages: start low and go slow. For clients new to the health and wellness cannabis space, it's important to understand that too much of any cannabinoid can have side effects. Whether it's uncontrollable anxiety or severe sedation, it is possible to get too much of a good thing. Moreover, some beverages may contain ingredients that enhance the effects of cannabinoids. Therefore, recommend starting with a beverage (or serving size) that provides no more than 5 mg of THC and lower amounts of CBD; take note of effects at 20 minutes and again at two hours to recognize the personal impact and don't consume with alcohol.
Advise patients that when choosing products, they should buy from a reputable source and take note of the storage conditions and any "best by" dates. Currently, there are no standards for storage or even for labeling of these products, so finding a trusted source is key to buying quality beverages.
A Word About Cannabis and Alcohol
One thing that's missing in most of these cannabinoid-containing beverages is alcohol. While the laws are blurry about whether it's legal to produce a beverage with both alcohol and cannibinoids, it's clear that the brands getting into the game generally are not mixing the two. It may be because getting a license to produce an alcoholic beverage made with or containing hemp is a long, expensive process. It may be because current laws don't allow brands to make content or benefit claims about CBD on an alcoholic beverage.5 It may be due to the target market, which is likely looking for an alternative to alcohol.
No matter the reason, most practitioners agree that cannabis and alcohol don't mix. They both have similar effects but work through different systems: cannabis affects the endocannabinoid system through the cannabinoid receptor CB1 and endocannabinoid degradative enzymes in the brain while alcohol affects the neurotransmitters gamma-aminobutyric acid, or GABA, an inhibitory neurotransmitter as well as N-methyl-d-aspartate, or NMDA, an excitatory neurotransmitter.6
When the two are combined, the effects of both substances are enhanced, which may lead to concerning issues such as hallucinations, major motor coordination impairment, and significant alterations in judgment.
Educating Consumers
Because of the growth in this category and because many of these products are geared toward social occasions and not intended to treat specific conditions, practical advice about consuming cannabis-containing beverages should be provided in any cannabis advocacy or education encounter.
— Bonnie Johnson, MS, RDN, is a certified cannabis consultant, food industry consultant, and speaker.
References
1. Kovacevich N. Drink up: the next frontier in cannabis is beverages. Forbes. April 15, 2019. https://www.forbes.com/sites/nickkovacevich/2019/04/15/drink-up-the-next-frontier-in-cannabis-is-beverages/#6076648478d5. Accessed November 7, 2019.
2. Recess beverage. https://www.takearecess.com. Accessed November 7, 2019.
3. White paper: the art and science of cannabis beverages. New Cannabis Ventures website. https://www.newcannabisventures.com/wp-content/uploads/white_paper_ascb_v9.pdf. Accessed November 7, 2019.
4. Wall ME, Sadler BM, Brine D, Taylor H, Perez-Reyes M. Metabolism, disposition, and kinetics of delta-9-tetrahydrocannabinol in men and women. Clin Pharmacol Ther. 1983;34(3):352-363.
5. Malkin R. Understanding the legal issues around cannabis-infused alcoholic drinks. Seven Fifty Daily. May 7, 2018. https://daily.sevenfifty.com/the-legal-issues-facing-cannabis-infused-alcoholic-drinks. Accessed November 7, 2019.
6. What are the effects of mixing weed and alcohol? Alcohol.org website. https://www.alcohol.org/mixing-with/marijuana/. Accessed January 8, 2020.