Winter 2020
The Buzz: Cannabis Is On the Menu
Enthusiasts are flocking to the nation's first cannabis café, which offers both food and flower service.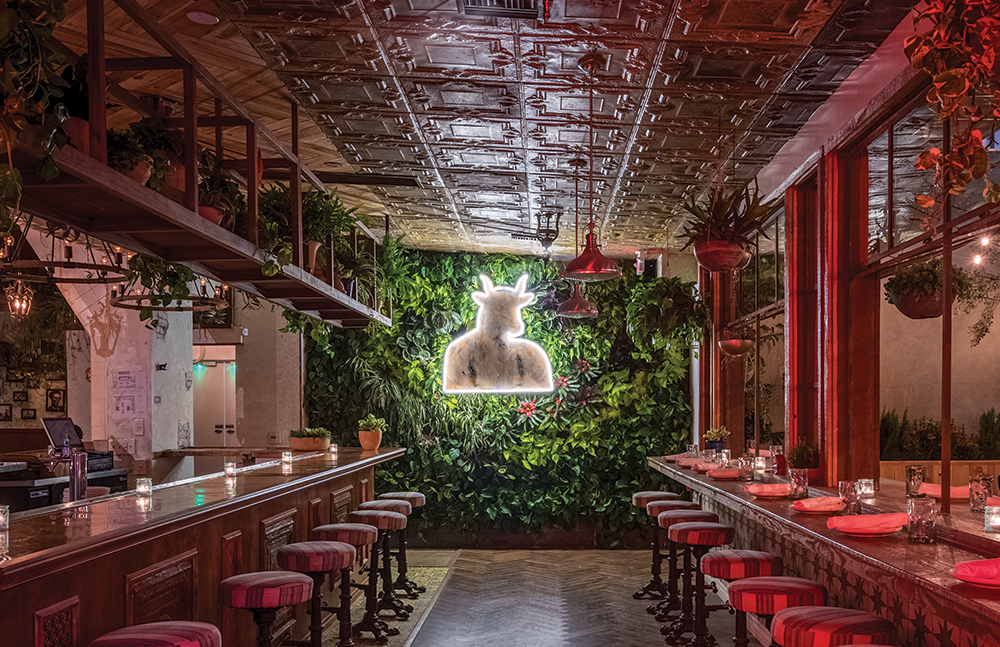 In what was inarguably a groundbreaking move for Los Angeles County, the city of West Hollywood approved the opening of the first cannabis cafe in the United States. Original Cannabis Cafe is the first farm-to-table, full-service restaurant granted a fully legal cannabis consumption license. It was one of eight licenses granted by the city, which received more than 300 applications. A crop of similar ventures will begin opening in 2020, each highly anticipated given that competition for the licenses was fierce.
What inspired the launch of this venture? According to Andrea Drummer, the restaurant's chef, "There needed to be a destination for everyone to openly enjoy cannabis in the community. Original Cannabis Cafe is a place for those who are canna-curious and the cannabis connoisseurs looking to experience the plant in a welcoming atmosphere. There hasn't been anything like this in existence for over 100 years, dating back to preprohibition era cannabis tea pads. We're excited to set the standard on what a cannabis café is and create this space for the community."
Opened on October 1, the café—backed by A-list celebrities such as Miley Cyrus, Chris Rock, Mark Ronson, and Sarah Silverman—is regularly packed, with an online reservation system that gets booked weeks in advance. Given the high degree of interest the establishment garnered even before its official opening, there's a 1.5-hour time limit that will remain in effect for the foreseeable future, likely until demand begins to become more manageable.
The Culinary Experience
Though Original Cannabis Cafe can legally sell cannabis products, state and local regulations require the establishment to operate as two businesses—a dispensary and a restaurant—under one roof. Patrons (all of whom must be 21 years or older with valid IDs) are provided with separate checks for their food and their cannabis (with separate waiters for food orders and for "flower" orders). It's also notable that Original Cannabis Cafe is an alcohol-free establishment, as state law prohibits the consumption of cannabis and alcohol in the same site. It does, however, offer a "drink menu," which offers cannabis-infused nonalcoholic beverages.
The restaurant features the culinary creations of Drummer, an innovative chef who made a name for herself in the cannabis industry by infusing foods with THC and creating elaborate meals for celebrities.
Drummer's menu features seasonal dishes meant to complement the effects of THC, though the food itself will not contain cannabis. State law stipulates that cannabis products must be prepackaged and lab tested, so serving fresh food infused with cannabis isn't an option for Original Cannabis Cafe at this time. Instead, Drummer focuses on creating enticing dishes that will pair well with specific cultivars of cannabis. According to a café representative, Drummer "created a first-of-its-kind menu complementary to heightened senses from cannabis … her balancing of terpenes and flavor has created an unparalleled dining experience that redefines food pairings."
Each dish is created with different cultivars of cannabis in mind, with suggestions for customers about which strain of cannabis will best complement each meal—food and bud pairings meant to mimic the way sommeliers assist consumers in pairing wine with their meals.
The menu offers an array of inspired dishes, from jalapeño mac & cheese bites to jerk lamb chops served with mango salsa. Sriracha buffalo wings are available as appetizers while pulled pork shoulder is offered with blueberry barbeque sauce as an entrée. The "seriously better than vegan nachos" are particularly delectable—a tantalizing combination of texture and flavor offers a sumptuous experience even for those not partaking in cannabis. Desserts might include indulgences such as sugar cereal bread pudding and salted caramel with coffee brittle and whipped cream.
Waiters take food orders, while flower hosts ("bud-tenders") provide flower service to tables. These flower hosts share information on the different strains of cannabis available at the café, from the flavors of each product to their effects, and help individualize cannabis orders based on customer preferences and their past cannabis experiences. Bongs and pipes are available for rent (customers are prohibited from bringing their own glass), and the flower hosts roll joints upon request. Customers may also bring their own cannabis products but must pay a "tokage" fee.
Reception
Despite the fact that Original Cannabis Cafe was welcomed by most of the community, there was one resonant voice that did not support the business. Rabbi Denise Eger, whose congregation meets across the street from the café, asked the city to deny the license on the grounds that Original Cannabis Cafe is an open-air business whose cannabis clouds may drift into her congregation that gathers at the synagogue.
To mitigate the concerns about these "cannabis clouds," Original Cannabis Cafe committed to using air filtration systems, the likes of which are seen in Las Vegas casinos (where indoor smoking is prevalent) and in hospitals. The restaurant also uses landscaping to complement these air filtration systems, utilizing air-purifying and odor-absorbing fragrant plants throughout the premises. Further, although the majority of the property is a designated cannabis smoking area, the restaurant plans to open a nonsmoking section on the patio early in 2020, which will be available to those interested only in sampling the food.
Given the nature of the business venture, the restaurant has implemented measures to ensure a safe environment for its patrons. Though customers can take their food leftovers, they are not permitted to leave the premises with unfinished cannabis products. Security is also present at the door, and bud-tenders periodically check on their customers to ensure no one is incapacitated from high levels of cannabis consumption. The challenge with cannabis, however, is that human bodies metabolize it on a very individual basis. One person may consume an edible and feel no effect while another may consume that same product and become very high.
The city will monitor the effect of the restaurant on the community during its first year in operation (the duration of the café's license), though it's fair to project that the restaurant will have a positive influence on cannabis tourism in the area. The city of West Hollywood, a neighborhood known for its fun social scene, is positioning itself to attract tourists interested in exploring nightlife in a state where cannabis has been legalized.
Despite the challenges it will face over its first year of business, the community holds high hopes for the restaurant's success. Even though Original Cannabis Cafe does not provide cannabis-infused food or drink, it hopes to leverage the popularity and legalization of cannabis to attract customers. Judging from the crowds it's attracted in its first month of opening, it looks like it's off to a good start.
— Sandeep Kaur Dhillon, MS, RDN, received her master's degree in nutrition and exercise physiology from Columbia University. She completed her dietetic training in New York City and practices as a dietitian in Los Angeles.