Summer 2020
The Lowdown: Cannabis and COVID-19 Risk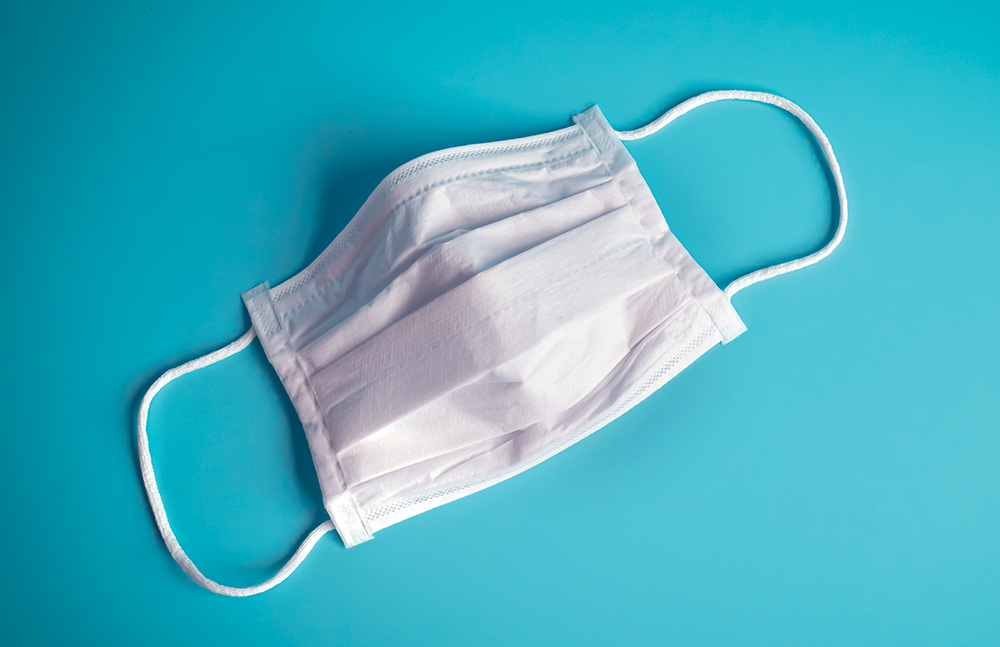 During the COVID-19 pandemic, shortly after virus-related shutdowns were initiated, sales at cannabis dispensaries in states with legalized marijuana jumped 30% to 75% within a few weeks. Online sales also increased significantly.1 This substantial uptick in both medicinal and recreational cannabis sales has been attributed to their use for anxiety relief during this understandably stressful time. Given that regular adult users of cannabis may utilize higher-potency products and with greater frequency, and that the number of new users is likely growing, medical professionals and scientists have issued warnings about the potential risks related to COVID-19 and cannabis use.
"The risks associated with cannabis use as related to COVID-19 have not specifically been researched and are currently unknown," says Michelle Sexton, ND, an assistant adjunct professor in the department of anesthesiology at the University of California, San Diego and a member of the International Cannabinoid Research Society, the International Association of Cannabinoid Medicine, and the Society of Cannabis Clinicians. Her clinical practice, research, and teaching focus is on the endocannabinoid system and its role in human health and disease across the lifespan. She recently published a commentary in the Journal of Alternative and Complementary Medicine discussing whether cannabis use may be helpful or harmful to the immune system in the context of the current pandemic.2
Cannabinoids in cannabis, most notably CBD, are under investigation as anti-inflammatory and immunosuppressive agents for those with chronic autoimmune diseases. While immunosuppression would be therapeutically beneficial for those with autoimmune conditions—where the body's immune system is overactive and attacking itself—it could be detrimental in healthy individuals because the immune response could be suppressed when exposed to coronavirus. "At therapeutic dosing, immune suppression is unlikely, but high doses of THC, as commonly utilized in adult use, could be harmful to the immune response," Sexton notes. The interactions of cannabis with the immune system aren't yet fully understood and are still under investigation; thus, it's unknown whether regular cannabis users may be more susceptible to infections.
What is well known is the effect of smoking cannabis on the lungs. Medical and scientific professionals are recommending that cannabis users stop smoking to reduce the risks and serious complications associated with COVID-19. The American Lung Association recommends stopping smoking and vaping immediately to improve health and avoid the most serious symptoms of COVID-19.3 In guidance for health care professionals who treat those with substance use disorders, the National Institute on Drug Abuse, part of the National Institutes of Health, similarly states, "Because it attacks the lungs, the coronavirus that causes COVID-19 could be an especially serious threat to those who smoke tobacco or marijuana or who vape."4
Previous research has shown that smokers are more susceptible to viral and bacterial respiratory infections due to the lung damage caused by smoking. Recent research on COVID-19 and smoking has shown that smoking causes a significant increase in the expression of angiotensin-n converting enzyme 2 (ACE2), the receptor in the body's cells by which the SARS-CoV-2 virus gains entry.5 ACE2 is abundant in the lung's alveoli. A May 2020 systematic review and meta-analysis of 15 studies with a total of 2,473 confirmed COVID-19 patients found that 22% of current tobacco smokers and 46% of former tobacco smokers had severe complications, and 38.5% of current smokers died from COVID-19.6 "Smoking causes inflammation in the lungs, and smokers are at increased risk for all respiratory infections. The byproducts of combustion are the same whether smoking tobacco or cannabis," Sexton emphasizes.
Most research into the adverse effects of smoking has focused on tobacco; however, with cannabis legalization, increased adult use, and consumption using vape pens (delivering a concentrated form of cannabis) have spurred researchers to better quantify the toxicity of cannabis smoke. A June 2020 study comparing the toxicity of tobacco with marijuana smoke found 173 different toxic compounds in tobacco and 110 in marijuana, with 69 in common; these toxic compounds are known to cause adverse health effects. The researchers concluded that marijuana and tobacco were very similar in terms of physical and chemical properties related to toxicity in the human body and damage to the lungs.7
Researchers have also speculated that smoking tobacco or cannabis may increase the risk of cerebrovascular and neurological complications associated with COVID-19 because both are known to disrupt the blood-brain barrier and cause changes in the brain. Vaping of nicotine and cannabis have also been shown to upregulate ACE2, as well as affect the brain.8 "Vaporization of concentrated cannabis, as in vape pens, may be even worse than smoking for lung health," Sexton says. Vaping of cannabis or tobacco, which is especially popular with younger Americans, is thought to increase the risks of both contracting COVID-19 and developing more severe complications.
Hookah smoking—also popular among young cannabis users—may also pose a danger related to COVID-19 risk. Medical professionals have expressed concerns about the risks of hookah smoking and COVID-19. Hookah tobacco and cannabis smoke contain similarly toxic chemicals that cause damage to the respiratory system. And there's the added danger that difficult-to-clean hookah pipes and reservoirs could facilitate virus transmission through shared use. Some countries have banned hookah use during the pandemic due to the public health risks associated with it.9
The Canadian Centre on Substance Use and Addiction issued a strong evidence-based statement based on the most current scientific research related to cannabis smoking and vaping and COVID-19. It noted the following:
Cannabis smoke contains known toxic chemicals and fine particles that are inhaled more deeply and held in the lungs longer than tobacco smoke, thereby negatively affecting lung health. Quitting cannabis smoking can reverse some of these negative respiratory symptoms.
THC from cannabis smoke or in other forms may inhibit immune system response, but more research in healthy users is needed to determine any effects on immune functioning as it's related to viral infection.
Vaping of cannabis—especially unregulated extracts—can cause severe lung injury and should be avoided.
Because they impair lung function, cannabis smoking or vaping could worsen the respiratory symptoms of COVID-19 and put users at high risk for serious virus-related complications.
In her recently published commentary, Sexton notes, "Avoidance of smoking cannabis and vaping of concentrates is particularly relevant for pulmonary health in light of COVID-19. These administration methods may diminish the respiratory system's efficacy in responding to infection and thereby increase the risk of rapid progression to hypoxemia." She suggests that using oral forms of cannabis or vaporization of the flower material as harm-reduction methods to help avoid airway inflammation and decrease COVID-19 risks.
— Jennifer Van Pelt, MA, is a health care researcher and freelance writer located in the Lancaster, Pennsylvania, area.
References
1. Hansen C. Coronavirus pandemic boosts marijuana sales while many businesses struggle. U.S. News & World Report. March 20, 2020. https://www.usnews.com/news/national-news/articles/2020-03-20/coronavirus-pandemic-boosts-marijuana-sales-while-many-businesses-struggle
2. Sexton M. Cannabis in the time of coronavirus disease 2019: the yin and yang of the endocannabinoid system in immunocompetence. J Altern Complement Med. 2020;26(6):444-448.
3. American Lung Association on COVID-19 and protecting lung health: quit smoking and vaping. American Lung Association website. https://www.lung.org/media/press-releases/covid-19-and-protecting-lung-health?gclid=Cj0KCQjwl4v4BRDaARIsAFjATPm_Z2OXex48sJPejIYEDd1Ub1pXCMXF9GakqAaTz-r_j8cxMlZ7fNsaAq29EALw_wcB. Published April 2, 2020.
4. Volkow N. COVID-19: potential implications for individuals with substance use disorders. National Institute on Drug Abuse website. https://www.drugabuse.gov/about-nida/noras-blog/2020/04/covid-19-potential-implications-individuals-substance-use-disorders. Published April 6, 2020.
5. Brake SJ, Barnsley K, Lu W, McAlinden KD, Eapen MS, Sohal SS. Smoking upregulates angiotensin-converting enzyme-2 receptor: a potential adhesion site for novel coronavirus SARS-CoV-2 (Covid-19). J Clin Med. 2020;9(3):841.
6. Alqahtani JS, Oyelade T, Aldhahir AM, et al. Prevalence, severity and mortality associated with COPD and smoking in patients with COVID-19: a rapid systematic review and meta-analysis. PLoS One. 2020;15(5):e0233147.
7. Graves BM, Johnson TJ, Nishida RT, et al. Comprehensive characterization of mainstream marijuana and tobacco smoke. Sci Rep. 2020;10(1):7160.
8. Archie SR, Cucullo L. Cerebrovascular and neurological dysfunction under the threat of COVID-19: is there a comorbid role for smoking and vaping? Int J Mol Sci. 2020;21(11):3916.
9. Shekhar S, Hannah-Shmouni F. Hookah smoking and COVID-19: call for action. CMAJ. 2020;192(17):E462.