Summer 2020
People: Montel Williams — Patient, Advocate, and Cannabis Company Founder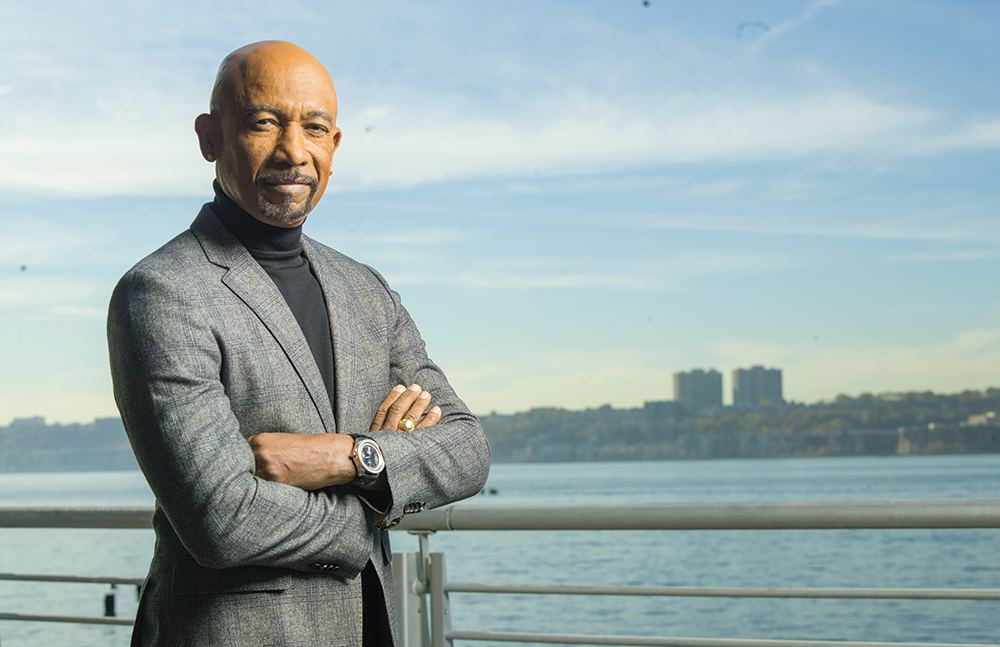 Emmy Award–winning talk show host Montel Williams often explored the topic of multiple sclerosis (MS) during his 17 years on television. It's a topic he knows well, having lived with the disease for two decades. His health challenges led him to become an inspirational speaker, author, cannabis entrepreneur, and advocate for patients worldwide.
Williams endured years of testing, ineffective therapies, and a lack of support because he didn't fit a profile. "I was finally diagnosed with multiple sclerosis in 1999, with a second opinion in 2000," he says. "Before that, my diagnoses included various things like sciatica or neural anomaly, terms that described the symptoms instead of the disease."
Misdiagnosis affected Williams for decades. He experienced his first symptoms during a distinguished 22-year military career. After becoming a Marine, in 1980 he was graduated from the United States Naval Academy in Annapolis, Maryland. He consulted top specialists about his symptoms, but they espoused the theory that only white women of European descent were predisposed to MS, so they failed to diagnose him. "It took doctors almost 30 years to get off of that ridiculous bad information and recognize MS as a disease that affects people all over the world, different races, colors, creeds, male as well as female," he says.
A significant episode in 1999 left Williams with extreme neuropathic pain. The traditional therapy model of potent opioids for the pain in his legs and feet caused irreversible damage to his liver and kidneys. He was surprised when a neuro specialist informally gave him an alternative. "One doctor—after telling me he wasn't going to write me any more prescriptions for opioids—was forward-thinking enough to have already done some reading about cannabinoids and suggested to me that I might want to look into cannabis. He basically said, 'I'm never going to confirm that I said this to you. I can't prescribe it to you. I can't even recommend it to you. You're going to have to look into it yourself.'"
Assuming a proactive role, Williams immediately dug deep into studying the research about cannabinoids and interviewing experts. "I found that cannabis was considered a legitimate treatment for pain by researchers and even by our federal government, although we had this dichotomy in that the very same government made cannabis illegal."
While government policy doesn't outwardly condone the use of cannabis, the United States Department of Health and Human Services filed a patent for the development of cannabis medicines. Although the government is at odds with itself, enforcing federal drug laws while government scientists research cannabis benefits, Williams says, "What shocked me was that there weren't doctors taking an interest and doing research, which potentially could've saved us years of pharmaceutical opioid abuse in this country. I still have gastrointestinal problems that were caused by opioid abuse. Using cannabinoids, I have much greater relief in so many different ways, from neuropathy and trigeminal myalgia, pain, and spasticity, than what the opioids could do, without all of the damage."
How the Past Has Shaped Our Present
As an ex-serviceman passionate about serving his fellow countrymen, Williams' advocacy involves voicing support for the right of military veterans to use medical cannabis without the threat of losing their benefits. In order to understand the issues, he educated himself about the history of hemp in America.
According to Williams, there are centuries of history that are relevant to health care professionals' current view of cannabis use. "Unbeknownst to us, we have been told lies. We've been misled into thinking that for some reason cannabis is bad for you," Williams says. "But the truth is, America was built on hemp." America's reliance on the plant began as early as colonization. "People consumed hemp since the early 1500s because it's one of the best plant-based protein sources on the planet," he says. "So, we ate hemp porridges and included hemp in other meals. In the early 1700s, it was considered un-American if you didn't grow hemp." Williams goes on to explain the prominent role hemp uniforms have played in American military history, among other facets of early American culture: "Hemp and cotton made up every tent, every sail, every rope that we produced in America—right through to the 1940s."
He points to how hemp became a racial issue some 90 years ago. According to historical accounts, cannabis was frequently found in medicines and tinctures. The demonization of cannabis came with the suspicion and fear of Mexican immigrants. Newspapers and other sources insisted that the "marihuana" plant that the immigrants brought with them caused them to be potentially violent citizens. The cannabis that Mexican immigrants brought with them was the same widely used plant, albeit with a different name. That simple fact wasn't commonly understood at that time.
"For commercial reasons, for monetary reasons, for racist reasons—we turned the hemp plant into a villain back in 1937. Even after we outlawed hemp in the 1930s with the Marihuana Tax Act, our government forced farmers during to grow hemp because we needed it for the World War II war supply," Williams says. "
As a result of medicinal cannabis use, Williams has experienced exceptional level of health, pain relief, and well-being. He insists it's time for health care and the powers-that-be to acknowledge the power of this plant. "Cannabis has been around and written about for over 5,000 years and included with every cornucopia of medicine," he says. "You and I are born with an endogenous cannabinoid system; without ever consuming any cannabis in your life, you have cannabinoids that your body produces. Now researchers have proven that the endocannabinoids that we produce are neuroprotective, anti-inflammatory, and immunomodulatory, and they help with cellular homeostasis, which means it's what keeps us functioning at a premium."
Patient and Entrepreneur
A cannabis entrepreneur and founder of the company Lenitiv Scientific, Williams has used his engineering degree to develop innovative formulations. He's brought high-quality products to the marketplace, which were born out of his own need for consistent, efficacious, and minimally adulterated products. Product sources and cleanliness in growing and manufacturing are paramount, he observes. Williams cautions health care workers to question how the cannabis has been processed. "We don't want to use caustic solvents for extraction, and poor processing that leaves solvents behind," he says. "I don't use any 'tanes' whatsoever, [eg, butane]. Technology exists to use pure water to extract cannabis oils like CBD and THC. And we have the means to use supercritical CO2 extractions, CO2 being an inert gas that evaporates at a low temperature so that you can get all the particulate out. Or, manufacturers may use cryo-ethanol (a cryogenic method), which extracts cannabinoids and evaporates the product at a low temperature and assures that solvents are removed from the end product." It's also important, he says, to look for third-party testing. "I wouldn't consume anything that doesn't have a label on it, that doesn't explain the third-party testing and the constituents in the product. You're taking your life into your own hands, I believe, without checking those things. It's really important."
Williams believes a dispensary should function much like a regular pharmacy. "Look at the care given by those who run the dispensary," he says. "If the dispensary is a shoddy hole-in-the-wall with a person behind the counter that can't explain anything better than 'this is sativa, or this is indica,' then walk out the door. It should be the same as your expectation of going to any pharmacist to pick up medication; when you ask questions, they are knowledgeable about the product that they're about to give you. I would demand the same excellence out of the dispensaries that I go to, even though now I only consume my products, for which I've personally watched over their production and formulation. Take the time to understand the formulation processes that are involved."
Having an opinion formed by decades of having been a patient, Williams feels that health care must change. "Patients are more informed now," he says. "And the doctor's main role is listening to the patient and guiding them along a treatment pathway unique to that person. Allow your patients to tell you how they feel. If health care providers did this, we'd be miles ahead."
— Michele Deppe is a freelance writer based in upstate South Carolina.