Summer 2020
End-of-Life Care: Dying With Dignity and Comfort — The Role of Medical Cannabis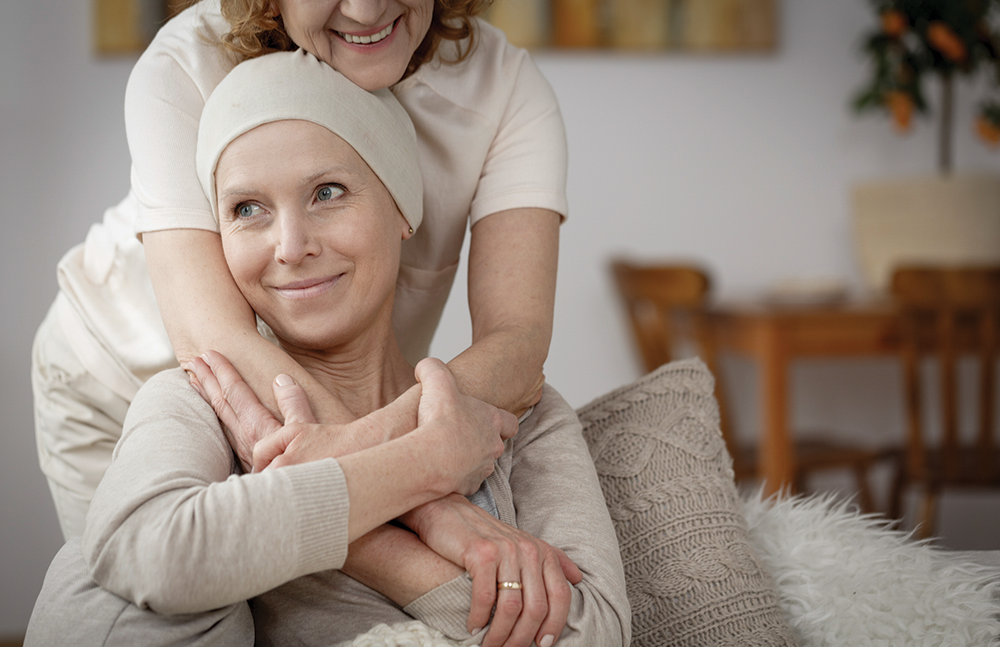 The principal goal of palliative care is to reduce suffering experienced by patients who are at or near end of life. Palliative care is multidimensional, attending to the physical, emotional, psychological, and spiritual needs of patients with life-limiting disease. Hospice and palliative care services may be provided in a patient's home, a nursing home, or an inpatient hospice unit.1 Historically, end of-life palliation utilizes a combination of opioids, benzodiazepines, serotonin 5-HT3 receptor antagonists, and antipsychotic medications to help ease patients' suffering. While often necessary, these medications come with many unwanted—and sometimes dangerous—side effects, particularly at the increased doses typically needed to achieve relief of symptoms. Integrating cannabis has been shown to reduce harm and unwanted side effects when used in combination with medications.
The benefits of using medical cannabis for improving quality of life among palliative care and hospice patients are numerous. Several benefits are explored here.
The Synergistic Relationship Between Cannabinoids and Opioids
The overlap of the endocannabinoid and endogenous opioid systems offers an understanding of why cannabis and opioids work well synergistically. Both provide analgesic effects, with evidence of cannabis producing analgesia at both the central and peripheral levels.1 Both systems consist of G-coupled protein receptors found throughout the brain,2 and both cannabinoids and opioids are produced endogenously and are part of the homeostatic processes necessary for life.3
Cannabis is an ancient medicine with millennia of safe usage. With a toxicity profile that's less harmful to the body than water, cannabis is particularly effective when dosed consistently and appropriately. Opioids are also an ancient medicine, regarded as most effective for treating pain but with a much more harmful toxicity profile that includes respiratory depression from overdose. With morphine, the most common opioid used in end-of-life care, difficulty breathing is a common side effect. Constipation, nausea, vomiting, and drowsiness are also commonly reported at the doses often required for comfort.
Many of these side effects can be mitigated with the use of medical cannabis. Research has demonstrated that subanalgesic doses of morphine and THC are equally unsuccessful at mitigating pain. However, the combination of morphine and THC shows a significant reduction in affective pain, and preclinical trials suggest coadministration attenuates tolerance.4 This translates to the patient requiring lower doses of opioid medication for symptom control, thereby reducing respiratory depressive effects that are commonly experienced at higher doses.
Medical cannabis also has been shown to reduce the doses of antidepressant or antianxiety drugs in patients at the end of life.5
These examples support the concept of combining cannabis with conventional medications to reduce the doses of prescribed opioids, anxiolytic, and antidepressant medications, all of which are often titrated up significantly at end of life.
Cannabis Promotes Presence of Mind for Dying Patients
Cannabis has been associated with euphoria, aversive memory extinction, and sensorium enhancement, and can serve as a spiritual insight catalysis. This experience may mitigate any number of anxious thoughts and behaviors that accompany the end of life. Cannabis has also been used as an enhancer to heighten sensory perceptions and awareness.6 People with terminal illnesses may be looking to evaluate the meaning of their lives and deepen their connections with loved ones during the limited time they have left. If used properly, euphoria and enhanced sensorium may help overcome the barriers to achieving mindfulness at the end of life. This may help patients achieve a moment-to-moment presence and abstain from focusing only on the future.
Cannabis also holds potential to ease the psychological trauma that a terminal diagnosis often brings. This spiritual growth and development may offer a more dignified experience for patients. Families may also benefit as they witness their loved ones experience a more peaceful state of being. The resultant lucidity makes possible a more conscious, connected, and dignified passing.
Barriers to More Widespread Use
In a national survey examining the knowledge, experience, and views of hospice professionals toward medical cannabis, 91% of individuals support cannabis use in hospice. Three-fourths of these clinicians care for patients for whom cannabis was most successful in managing their nausea, vomiting, pain, and anxiety; however, less than 50% certify their patients. The most common reason for providers not utilizing cannabis is a general confusion and discomfort over their insufficient knowledge and training.7 This inadequate preparation begins at the core of providers' careers, with traditional education at medical, nursing, and pharmacy schools neglecting to include appropriate cannabis education.
Additionally, hospices and other health care settings that receive federal funding preclude the use of cannabis, as it remains a federally illegal substance. Many hospice settings are left to either look the other way or maintain a hands-off policy, leaving someone close to the patient to procure and administer the medicine.7 The result is typically a "don't ask, don't tell" approach that can lead to an unsafe and ineffective combination of cannabis with other medications. With patients and families continually asking hospice clinicians about cannabis, we've clearly reached a time in which hospice clinicians must either receive appropriate cannabis education or refer their patients to a provider who specializes in medical cannabis.
Overcoming the Roadblocks
While rescheduling or descheduling cannabis would certainly be helpful, patients are suffering now. We cannot wait for hospice clinicians to educate themselves, as cannabis therapeutics is a specialty in and of itself that requires time and experience. Being in such high demand, most cannabis providers don't provide in-home or nursing home visits. One silver lining in the dark COVID-19 cloud is telehealth. With telehealth, cannabis therapeutics specialists, such as recommending providers and cannabis nurses, are able to consult with suffering patients and their families from the safety of their residences. To meet patients' needs, many medical dispensaries are implementing or expanding their delivery services so patients have access to cannabis during this unprecedented time.
Death With Dignity
In summary, medical cannabis holds the potential to help terminal patients remain comfortable mentally, emotionally, and physically at the end of their lives. The synergistic effect of combining cannabis with opioids, anxiolytics, or mood stabilizers reduces the necessary dose of both cannabis and these medications. This offers patients an approach that can better manage many symptoms associated with the end of life, while reducing the unwanted side effects of interventions. With appropriate guidance and support, hospice patients have an opportunity to die peacefully, comfortably, and with the dignity we all deserve.
— Ryan D. Zaklin, MD, MA, PC, is trained in internal, geriatric, integrative, mind-body, and cannabinoid medicine. He earned his MD from the University of Virginia and completed his training in internal medicine at Massachusetts General Hospital and served on the faculty at Harvard Medical School. He works with Partners Network in skilled nursing facilities and maintains a private practice in integrative medicine.
— Meghan Clements, FNP-BC, graduated with her bachelor's degree in biochemistry from Merrimack Collage (2009) and her master's in nursing from Simmons University (2013). Starting her career as a nurse practitioner, she cared for geriatric patients during their short term rehabilitation or long term care stay, helping to manage their acute illnesses, chronic conditions, and end-of-life care. She also works as an orthopedic nurse practitioner.
— Marissa Fratoni, BSN-RN, LMT, RYT, INHC, is a holistic nurse and multidisciplined health practitioner specializing in women's health and behavioral health and further specializing in cannabinoid therapeutics. She's well versed in complementary healing modalities including massage therapy modalities, yoga, and integrative nutrition. Her published work and adventures in the cannabis space can be found at holisticnursemama.blog.
References
1. Russo EB. Clinical endocannabinoid deficiency (CECD): can this concept explain therapeutic benefits of cannabis in migraine, fibromyalgia, irritable bowel syndrome and other treatment-resistant conditions? Neuro Endocrinol Lett. 2008;29(2):192-200.
2. Befort K. Interactions of the opioid and cannabinoid systems in reward: insights from knockout studies. Front Pharmacol. 2015;6:6.
3. Carter GT, Flanagan AM, Earleywine M, Abrams DI, Aggarwal SK, Grinspoon L. Cannabis in palliative medicine: improving care and reducing opioid-related morbidity. Am J Hosp Palliat Care. 2011;28(5):297-303.
4. Roberts JD, Gennings C, Shih M. Synergistic affective analgesic interaction between delta-9-tetrahydrocannabinol and morphine. Eur J Pharmacol. 2006;530(1-2):54-58.
5. Bar-Sela G, Vorobeichik M, Drawsheh S, Omer A, Goldberg V, Muller E. The medical necessity for medicinal cannabis: prospective, observational study evaluating treatment in cancer patients on supportive or palliative care. Evid Based Complement Alternat Med. 2013;2013:510392.
6. Strouse TB. Cannabinoids in medical practice. Cannabis Cannabinoid Res. 2016;1(1):38-43.
7. Costantino RC, Felten N, Todd M, Maxwell T, McPherson ML. A survey of hospice professionals regarding medical cannabis practices. J Palliat Med. 2019;22(10):1208-1212.