Spring 2020
Education: University of Maryland Takes Cannabis Studies to the Graduate Level
College students can become experts on medical cannabis.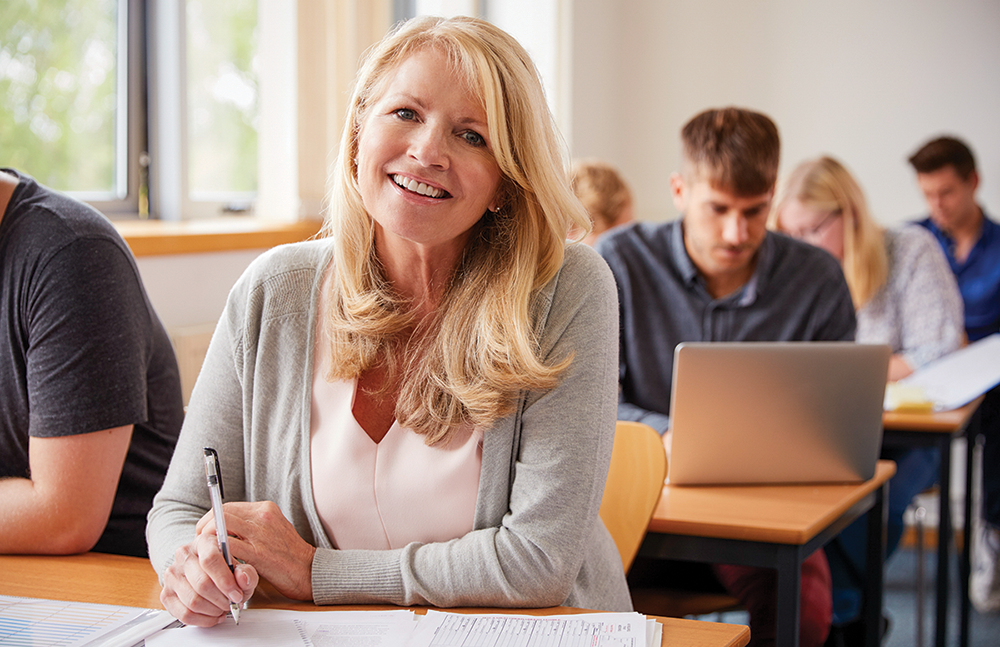 Research estimates that the global legal marijuana market size was close to $14 billion in 2018—and it's projected to grow to $66.3 billion by the end of 2025.
Within the United States, the impact of the growing legalization and decriminalization of marijuana has reached academia. Schools across the country are now offering classes centered around cannabis, from UC Davis' "Cannabis & Cannabinoids in Physiology & Medicine" to Vanderbilt Law School's "Marijuana Law and Policy." Accredited universities are disseminating research-backed information about the historically controversial plant. The University of Colorado, the Ohio State University, and the University of Washington are a few of the bodies of higher education providing students the opportunity to study this evolving field. And academic research on cannabis continues to grow; last year, Harvard Medical School and MIT were each given $4.5 million by Charles R. Broderick, an alumnus of both institutions, to study cannabis biology.
Some schools are going so far as to offer degrees centered around cannabis. Northern Michigan University claims to be the "first four-year undergraduate degree program of its kind" that will prepare students for careers in "emerging industries relating to medicinal plant production, analysis, and distribution." The university states that the "increasing legitimacy and legality of medicinal plants nationwide has created great demand for qualified technical personnel and great opportunity for the skilled entrepreneur in the cannabis, herbal extract, and natural product industries."
It's the University of Maryland School of Pharmacy in Baltimore, however, that's taking cannabis education to the graduate level. The institution offers a master's-level education on medical cannabis, creating a space for students of all backgrounds to develop expertise in the medical cannabis industry. According to Leah Sera, PharmD, the Master of Science in Medical Cannabis Science and Therapeutics program was developed in response to a rising need in the medical community for individuals who are experts on medical cannabis. Sera is the program's director as well as an assistant professor of pharmacy practice and science at the University of Maryland School of Pharmacy.
"The program was conceived by Natalie Eddington, [PhD, FAAPS, FCP], the dean of the School of Pharmacy," Sera says. "The idea came to fruition over the course of a year during which curriculum was created and outside experts who specialized in medical cannabis were consulted." The program was developed, she says, "in response to the fact that the medical industry is evolving and expanding, and we saw a need for an educated workforce. We also saw a knowledge and education gap in health professionals—from physicians to students to nurses—and our program is meant to address that gap."
A Forward-Looking Program
The curriculum was designed to provide a comprehensive framework of information on the function of cannabis within the human body, and students will explore how cannabis-based medications are used to treat disease. "We teach the basics of pharmacology and pathophysiology and apply that to what we know about cannabinoids and how they work," Sera says. Courses cover cannabis legislation within the United States, the science of the endocannabinoid system (ECS), how cannabinoids interact with the ECS, and what body systems are involved in the metabolism of cannabis. It's important to note, however, that students will not be working directly with the cannabis plant itself. "We don't handle cannabis in the program," Sera clarifies. "There's no experiential part of the program, and we don't discuss horticulture, growing, cultivation, things of that nature."
Though the degree is specifically designed to provide a master's-level education on medical cannabis, applicants to the program do not need a background in cannabis to be accepted. "Our student body is very diverse in terms of background," Sera says. About one-third of the 150 students within the program have some sort of background in medical cannabis, with the remaining student body coming from areas such as health care, public policy, law, political science, or communications. We are preparing students to become patient advocates and educators or to work in the public policy arena for those who are interested in doing so."
She sees the diversity in professional background as a strength of the inaugural graduating class. "Our hope is that graduates will be able to create new roles and careers in this space, help develop regulations and policies at multiple levels, and be involved in research and development. We want our students to be trailblazers. They are at the forefront of a field that is new in many ways and rapidly evolving— our graduates will help it evolve to what it will be next." According to Sera, students will be able to "leap past entry-level positions in processing plants and dispensaries" and develop expertise in a field that needs evidence-based practices.
Success Stories in the Making
Karriem Farrakhan, PharmD, and Tecoya Farrakhan, Pharm D, pharmacists who met while students at the University of Maryland School of Pharmacy and married each other, are both enrolled in the program and support Sera's vision for the opportunities that await graduates. They applied to the program to learn about cannabis in a structured way. "We purchased books and would read everything we could find on cannabis, but we hit a wall because we were studying without direction," Karriem Farrakhan says. "The program provided the direction we needed. It is all online, but we have to visit the campus once per semester. We had a huge symposium in the fall, and we spent time with international students from Hong Kong and Australia who flew in just for the symposium."
And though Tecoya Farrakhan and Karriem Farrakhan are both clinical pharmacists and have strong backgrounds in the sciences, they report that the school makes its science-based classes accessible even for those students without science backgrounds. "Classes are entry level; they're made to allow you to speak about pharmacology and how receptors work and everything, but they're presented in a way that's accessible for everyone," says Tecoya Farrakhan, who's a general manager and clinical director of a medical dispensary in Maryland.
Though the classes are online, students are encouraged to work together on group assignments and to network. "The beauty of the program is that the opportunities will come from the connections you're making," Tecoya Farrakhan states. "There are students from all walks of life, and through our interactions, opportunities will be created and present themselves. This degree allows graduates to say they are one of 150 experts in this area. Some students are hoping that they'll get picked up by an established company that wants that level of expertise while other students may want to establish their own companies. This degree will also provide students with the expertise and credentials to advise dispensaries and operate medical practices and any number of medical cannabis businesses."
Though the program prepares students to enter the fields of public policy and health care, what drove both Tecoya Farrakhan and Karriem Farrakhan to this program was their entrepreneurial spirit. "We are clinicians, but we are also business people. We can fuse these two parts of ourselves and just see where the opportunities take us. Some students look for auxiliary opportunities, perhaps consulting for other companies. Others look to make their own opportunities," Tecoya Farrakhan says. "The sky is really the limit."
The program welcomes students from all over the world. The application process does not require that applicants have taken the Graduate Record Examinations exam, but it does require that they've earned a bachelor's degree from an accredited institution (with official academic transcripts), a résumé or curriculum vitae, three references, a personal essay, and English language proficiency. There are no prerequisite courses, though a minimum of a 3.0 grade point average is preferred. See www.pharmacy.umaryland.edu/academics/ms-medical-cannabis-science-and-therapeutics for details.
— Sandeep Kaur Dhillon, MS, RDN, received her master's degree in nutrition and exercise physiology from Columbia University. She completed her dietetic training in New York City and practices as a dietitian in Los Angeles.