Spring 2020
The Lowdown: The Impact of COVID-19 on Medical Cannabis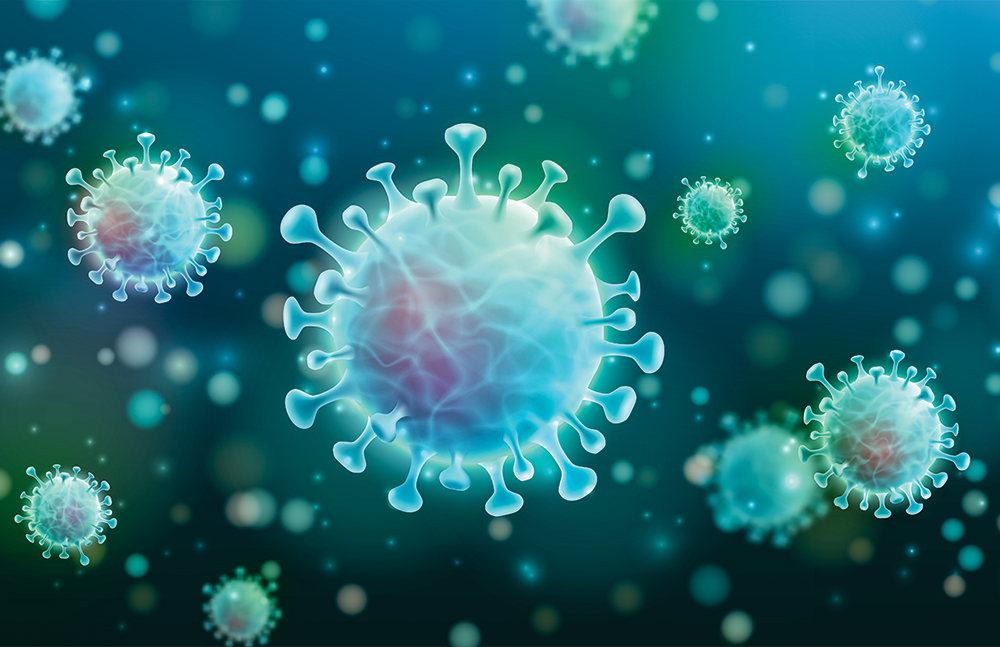 Earlier this year, the discussions about medical cannabis focused on expanding markets and regulations at the local, state, and federal levels. No one expected that a novel virus would spread across the globe and affect the medical cannabis community in the way it has. Since the first states enacted social distancing protocols and then stay-at-home orders, the world of cannabis regulation has been turned on its head. Government officials and advocacy groups have worked at light speed to ensure that patients who depend on cannabis to treat their conditions are able to access their medications in a safe and efficient manner. At the same time, experts are issuing recommendations on how to consume medical cannabis during a time when respiratory health is of utmost concern. While there's plenty of speculation about how this will affect the cannabis industry as a whole, uncertainty reigns and producers, providers, and patients are taking things day by day.
Medical Cannabis Is Essential
When the "shelter-in-place" order was issued in the San Francisco Bay Area, cannabis dispensaries were shutting their doors because they were not on the list of essential businesses. Within hours, the medical cannabis community had come together to get clarity on the issue and make sure that cannabis dispensaries were included in the "necessary health care or critical medical supplies" category of essential businesses. Since then, other cities have enacted similar stay-at-home directives as well as recognized that registered medical cannabis patients may have debilitating or life-threatening conditions and are often immunocompromised. By establishing uninterrupted access to cannabis, officials hope to prevent panic buying and crowded dispensaries. For instance, when Denver Mayor Michael Hancock announced a stay-at-home directive in which all liquor stores and dispensaries would be closed (along with other businesses), lines at one dispensary grew around the block in minutes. Within an hour of his first declaration, the mayor issued exceptions to the lockdown order for dispensaries and liquor stores and urged people to get out of line and go home.
As of March 20, California, Nevada, New York, Pennsylvania, Washington State, Connecticut, Delaware, Florida, Illinois, Maryland, Massachusetts, Michigan, New Hampshire, New Jersey, New Mexico, Ohio, and Oregon or municipalities within those states have enacted new rules making access to medical cannabis easier and safer, a situation that may or may not be temporary. These changes include allowing for curbside delivery, expanding home delivery services, increasing medical cannabis sales limits, simplifying the processes to obtain cannabis worker permits, offering telemedicine to qualify for and renew medical access cards as well as change treatment plans, and reducing caregiver registration fees.1,2 While in most cities, these directives are supporting medical cannabis users, in states where adult (recreational) use significantly overlaps with medical use, the lines are blurred. Yet it seems as though governments in these mixed-use markets are erring on the side of supporting medical patients and leaving all dispensaries open.3 Many of these emergency actions are based on discussions among government officials, advocates, and constituents that were in progress before COVID-19. What remains to be seen is whether these rulings will be rescinded when the isolation orders are lifted and how else the virus might affect other cannabis reform issues. One thing is clear: Cannabis reform issues not influenced by the virus—such as legalizing medical use in more states—will be delayed at best, abandoned at worst.
In all cases, there are strong directives included in these rulings that restrict person-to-person contact as much as possible and call for changes in the retail environment to protect consumers and dispensary employees.2 Many of the precautions are standard across all pharmaceutical and grocery operations: Sanitize hard surfaces frequently, avoid direct contact with customers, wash hands frequently, and provide ample space for social distancing. In some cannabis retail outlets, this means separate lines for medical patients, registering for a visit from the car and not entering the shop until called, putting away the open flower jars used for strain "sniffing," and limiting the number of customers in the shop to a few at a time.
Implications of Reduced Access for Cannabis Users
The list of conditions that medical cannabis can be used for varies state to state, but the devastating effects of limited access don't. For cancer patients, cannabis may be the only thing that relieves their nausea after treatments (and yes, treatments are continuing). Some patients with autoimmune disorders use medical cannabis as a more effective treatment of their symptoms than drugs obtained through their neighborhood pharmacies. And while there are a significant number of registered medical cannabis patients who manage moderate to severe chronic pain or anxiety with a doctor's recommendation, the number of unregistered, adult-use consumers is estimated to be in the tens of thousands. Degenerative joint disease, inflammatory arthritis, HIV, sickle cell anemia, fibromyalgia, and neuropathy are just a few conditions associated with chronic pain in which cannabis can be used as a treatment in an effort to avoid prescription opioid medications. Limiting or disrupting access to cannabis during high-stress, uncertain times can exacerbate health problems and potentially put more strain on an already taxed health care system. Some practitioners worry that limiting legal access will push patients to buy adulterated products on the black market or return to highly addictive opioids.
Maintaining Respiratory Health
While experts acknowledge that cannabis is an essential medicine for medical patients, some are recommending a change in cannabis administration methods—mainly for patients to stop smoking. Because COVID-19 is respiratory in nature, it's critical to keep insults to the lungs at a minimum. More specifically, the concern is with the cilia or parts of the cells in lungs that keep the airways clear of dirt, mucus, and other foreign particles. Smoking, whether it's tobacco or cannabis, damages airway cells, causes a loss of cilia, increases mucus production, and is considered a risk factor for more severe COVID-19 infection.4 Instead, some practitioners are recommending that medical cannabis patients switch to tinctures, edibles, vaporizers, and other noncombustible cannabis products instead of smoking. However, the following are other considerations to be evaluated before changing a medical cannabis patient's regimen:
• Tinctures may be the next best thing to smoking. If used correctly, tinctures have similar bioavailability; however, they take a bit longer to produce symptom relief. Patients who want to switch from smoking should be counseled to take the tincture about 15 to 20 minutes before they would usually smoke or vape. If symptoms are the key indicator of cannabis use, patients should try to be more sensitive to them and use cannabis at early onset, rather than waiting for symptoms to develop.
• Edibles are another option but require quite a bit of reconfiguring dose and timing to treat symptoms. While smoking has an immediate effect, edibles can take two to four hours for maximum effects. In addition, edibles may have a more pronounced intoxicating effect, which should be monitored and recorded closely to determine the best dose.
• Vaporizers may be an option, but some experts consider them just as damaging to the respiratory system as is smoking. However, for a patient who relies on smoking for immediate symptom relief, it may be slightly less harmful because there's no combustion involved.
Long-Term Impact on the Medical Cannabis Industry
The uncertainty felt across the country will affect all businesses and industries in different ways, and the cannabis industry isn't immune. Business analysts aren't willing to commit to any one major impact, yet most agree that the long-term impact will be directly dependent on how long the crisis lasts and the degree of interruption in retail sales, promotion activity, and the supply chain. From a business perspective, the cannabis industry is still relatively young and, while showing growth, most companies are reinvesting any revenue back into the business. Because trade shows have been cancelled across the country and the globe, new and improved products and services won't have the visibility to new investors or customers as expected and businesses may have to halt their go-to-market strategies, lay off employees, and wait out the storm. One obstacle already in the road to success is in the sourcing of components for personal-use devices such as vape pen cartridges and vaporizers, and cultivation equipment such as heating and air conditioning parts and even light bulbs. Unfortunately, uncertainty in the economy makes capital less available, a situation that, when combined with the uncertainty of cannabis regulations, makes potential investment dollars even harder to come by. Compound that with the federal illegality of cannabis, which will eliminate most businesses from government assistance and Small Business Administration loans, and the consequences could be dire, resulting in shuttering what were once burgeoning businesses.
— Bonnie Johnson, MS, RDN, is a registered dietitian nutritionist, food industry consultant, speaker, and certified cannabis consultant. She spends much of her volunteer time educating a variety of audiences about the benefits and potential risks of using cannabis to treat chronic pain, anxiety, insomnia, and other ailments. As a consultant, she works with the food and cannabis industries to bring science-based education to health care professionals and category-changing products to market.