Spring 2020
People: Katherine Golden — Cofounder of Leaf411
A unique education enterprise relies on the expertise of cannabis nurses.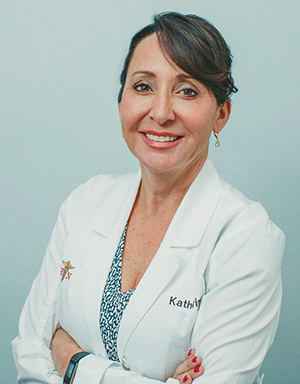 Katherine Golden, RN, is a cofounder of Leaf411, a cannabis education hotline based in Denver. "At the time Leaf411 was taking shape in my mind, I was working as the lead nurse at a cannabis clinicians' office here in Denver," she says. She was developing a cannabis nurse consultation component for the practice that would allow patients to have continued access to cannabis education—before and after their appointments with the physicians—at a much more affordable price than that of regular office visits. Golden says the concept was working, but it only served the patients connected with the office. Her husband, Don Golden, who now serves as Leaf411's chief financial officer, suggested the more straightforward approach of creating a phone hotline.
Enter Jennifer Axcell, a competent business strategist and Golden's coworker at the practice. Golden says, "I put in my resignation to start a cannabis education venture. It just so happened the practice was downsizing, and Axcell, the small business developer, was also leaving. I was excited to invite her to partner with me on this journey."
Creating New Opportunities for Nurses
It took a year of planning to create a business model. Golden and Axcell decided against a pay-per-minute platform due to the lack of accessibility and affordability for the clients. They were also unwilling to take on investors because of concerns that economics would become the primary focus ahead of public health education. Instead, they opted to become a 501(c)(3) nonprofit. "We decided there was no reason why we couldn't run the hotline just like a for-profit business with paid nurses and ancillary staff and provide a service for the public, other clinicians, and the cannabis industry that would be financially self-sustaining," Golden says. "The public owns a nonprofit, so it can't be sold or offer shares, and it can't take or give bonuses, because all of the 'profit' goes back into running the service for the public. But you can earn the same pay that a [nursing, business, or ancillary] position would make in the for-profit world, and that was good enough for us."
Golden and Axcell went live with the Leaf411 hotline on October 1, 2019, with a total of six registered nurses, including Golden, who volunteered their time during a three-month pilot program. Only four months later, the organization was able to hire its first nurses and a support person.
Golden says that the "market" of cannabis information is thriving. "There is room for more nurses in this type of cannabis education role," Golden says. "We wanted Leaf411 to be a place that a nurse could pick up as few or as many hours as desired to supplement his or her income but would allow more freedom to function as a parent, spouse, and entrepreneur. Since this is a remote job with calls taken in the comfort of your own home, we knew we could provide a special opportunity."
A new evidence-based pedagogy is evolving around legalized cannabis. But not so long ago, cannabis enthusiasts were the primary source of information for the public. Golden says, "I just read a quote from Kimberly Dillon, the former [chief marketing officer] of Papa & Barkley, a premium brand of cannabis-infused pain relief and wellness products. She said, 'We've outsourced our health care to many individuals.'" This resonated with Golden, who believes clinicians are catching up. "Medical professionals are a skeptical group, as we should be when we have the public's health and best interest in our hands," Golden says. "We needed to see the science for ourselves in black and white, and then get fully get behind it, before we could risk our livelihood and our professional licenses regarding what we are learning about this plant."
Golden was initially one of those skeptics. "My personal story coming into this exciting industry is one of fear and hope. Four years ago, my brother-in-law was suddenly diagnosed with stage 4 lung cancer and given two to five years to live. He never smoked and was in his 40s with two kids in high school. My entire family was devastated, especially my sister. Thankfully, they had the financial resources to consult with the foremost researchers and physicians specializing in lung cancer in Southern California. A University of Southern California researcher suggested, 'If everything else fails, we may look into cannabis.' My sister and brother-in-law began learning about the first line of defense drugs, gene therapy, and immunotherapy, while I promised to investigate the validity of this 'cannabis stuff.'"
Golden read through the most reputable scientific resources. "I was angry—angry that more wasn't done to shout this information from the rooftop for medical professionals to take a more in-depth look," she says. "Because of what I learned about cannabis, I was able to guide my sister and brother-in-law to the top cannabis clinicians in California, Bonni Goldstein, MD, and Allan Frankel, MD. My brother-in-law started with cannabis after one of his immunotherapy drugs led to life-threatening side effects. He is now on record as the patient whose gene therapy has lasted the longest amount of time. His physician-researcher has been perplexed about my brother-in-law's progress and stated that if my brother-in-law's tumors randomly shrink again, then he'll explore recommending cannabis for other patients!"
The Callers
"The most rewarding part is talking to our public," Golden says. "In the last three months, I've heard countless stories of physical and emotional pain, but I've been able to provide some hope. One was a husband in his 70s calling about his wife, who is battling cancer. Although the couple lives thousands of miles away, the husband was willing to move to Colorado to have access to RSO (Rick Simpson Oil) if that type of cannabis would benefit his wife. I was able to educate him about the medical marijuana program in his home state and I gave him a step-by-step plan to contact a nearby cannabis physician and give tips about how to discuss dosage and management effectively. He was so happy to find out he could get help immediately, right where he lived."
Golden relates another story of a caller from the East Coast. A woman in her late 20s asked about CBD and THC for multiple conditions. "After fully triaging the call, I discovered that she purchased a THC vape product from an unknown source for $20 that made her sick. I educated her about the current vape illness and gave basic information about the difference between CBD hemp and marijuana, ratio benefits, and the different available products," Golden says. "I guided her through the many resources on our Leaf411 website. She was thrilled. These are the real-life stories that keep us motivated through the day-to-day struggles to acquire the funding that keeps this free hotline operating!"
Colleague Response
The medical community has welcomed support from Leaf411 and gladly refers patients to them. Golden says, "We've also had calls from other clinicians including social workers, other nurses, nutritionists, acupuncturists, physical therapists, and physicians. Sometimes we are asked to relay the information directly to their patients or clients. Jennifer [Axcell] and I are very motivated to help mitigate risk and empower our colleagues."
The National Council of State Boards of Nursing's Natural Nursing Guidelines have recognized cannabis as a medicine. Leaf411 has partnered with Eloise Theisen, RN, MSN, AGPCNP-BC, the president of the American Cannabis Nurses Association and cofounder of Radicle Health, which provides cannabis training for health care professionals. Golden was impressed with the detailed science and professional tone of the Radicle courses. "I knew immediately that this was the premier training that I needed to require all Leaf411 nurses to utilize," Golden says. "Nurses have incredible respect for one another, especially those that create a new path for other nurses." She cites other ground-breaking contributors in cannabis education including Eileen Konieczny, RN, BCPA, an author and board-certified patient advocate; Alice O'Leary-Randall, a medical cannabis advocate; Elisabeth Mack, RN, MBA, founder and CEO of Holistic Caring, a concierge cannabis consultation service; Heather Manus, RN, creator of Cannabis Nurses Network, which promotes education and professional development for nurses around the world; and Kristin Wohlschlagel, RN, an oncology nurse, cannabis researcher, and blogger.
"The Leaf411 nurses are all members of the American Cannabis Nurses Association and have all taken the TMCI [The Medical Cannabis Institutes] nursing course," Golden says, "plus, various other courses like those offered by Dustin Sulak, DO, at Healer.com, and the website academy at Green Flower Media. We're excited that top universities and accrediting bodies all over the country are forming courses."
She anticipates rapid growth for Leaf411 and other cannabis education outreaches. "The key," Golden says, "is to align with like-minded colleagues and cannabis businesses whose loyalty firmly lies with the health and safety of the public, which we've taken a personal and professional oath to protect."
— Michele Deppe is a freelance writer based in Seattle.
Leaf411 Active Amid Pandemic
Leaf411 is riding the same rollercoaster as everyone in this pandemic as we try to find our temporary normal. Immediately after it hit here in Colorado, we pivoted toward offering our virtual nurse call center to include COVID-19 support with a goal to help alleviate some of the heavy burden our health care triage lines were experiencing.
In addition, we opened our free service to every dispensary and manufacturer in Colorado—not just our members. Being a licensed health care team, we provided a series of
preparedness plans for the industry to help remind customers and employees about basic safety measures and reduce the potential for virus acquisition.
We have witnessed an explosion of questions to our hotline, ranging from fear ("Could my edibles package have the virus?") and concern ("Can I still take CBD even though I'm hearing you shouldn't take ibuprofen?") to planning ("I'm going to stop smoking because I'm reading we should since the virus attacks the lungs, but what should I replace it with?").
Every day brings new challenges and experiences, but we are here for the long run. We will continue to raise awareness of our mission by every means possible and continue providing our public with free education and resources for safe and optimal use.
— Katherine Golden, RN