Fall 2020
Research: The Future of CBD in Pharmaceuticals
Research may lead to new uses for CBD, including the treatment of PTSD, inflammatory bowel disease, and stroke.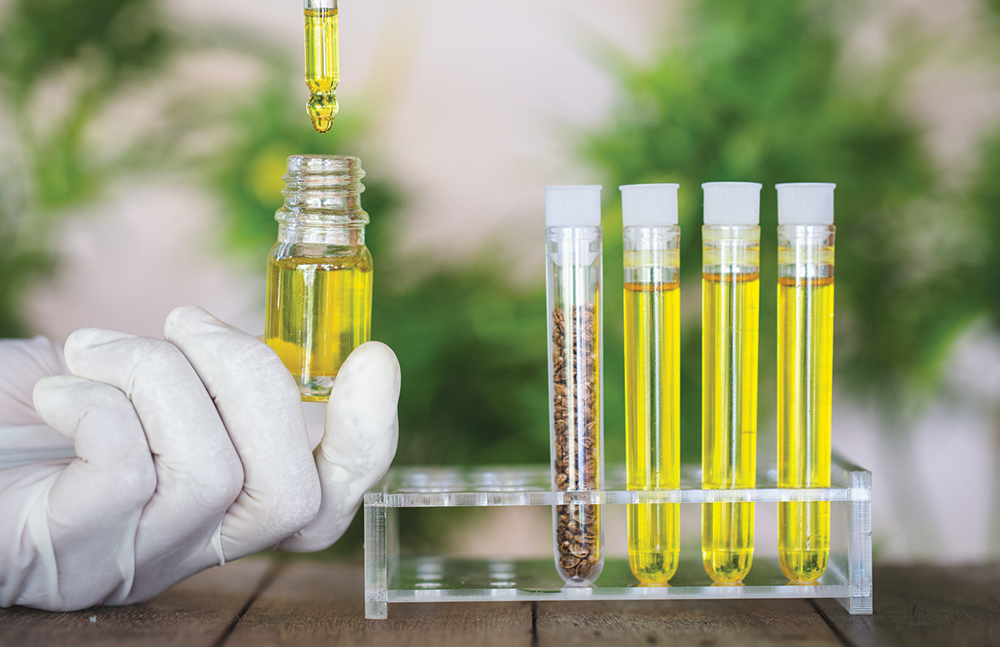 The future of CBD in pharmaceuticals hinges upon some of the exciting research currently underway. Better understanding the medicinal chemistry behind CBD should open up the possibilities for its use as a pharmaceutical. As a molecule, CBD has a lot of exciting potential for a variety of different indications—but there's still a lot more that must be understood.
Artelo Biosciences, Inc, a clinical-stage biopharmaceutical company developing therapeutics that modulate the endocannabinoid system, has been exploring this potential. The company is headquartered in San Diego and has subsidiaries in Ireland, Canada, and the United Kingdom. CRx spoke with one of their scientists to find out more about what the future of CBD in pharmaceuticals may look like.
"CBD has great potential for many indications because it acts on many receptors and enzymes in the body," explains Saoirse O'Sullivan, PhD, a professor of pharmacology and CEO of CanPharmaConsulting, headquartered in Nottingham, Nottinghamshire, United Kingdom, is a scientific advisor to Artelo. "This makes it a potential therapeutic in a wide range of applications; however, it has poor physiochemical properties. For example, it is not very soluble or absorbable by the body. The fact that it works well isn't enough when we can't translate this into medicine because of its poor physical properties."
The bioavailability of CBD, when inhaled, is reasonable, O'Sullivan says. However, it's quite poor when administered orally, which is how most people like to take their medicine.
"That includes any kind of solutions, suspensions, capsules, or tablets," she explains. "When taking CBD orally, most of it is excreted without being absorbed, making it a poor drug for pharmaceutical purposes. That's why Artelo Biosciences is amongst those who are researching ways that we can improve those physical properties. We want to find ways that we can get more, and consistent levels, of CBD into the bloodstream with an oral method."
According to O'Sullivan, there's also considerable variability in CBD bioavailability from person to person—which isn't well understood. The deviation in terms of how much is taken up by the bloodstream for different individuals requires further study.
The Formation of a Cocrystal
Artelo's strategy to improve the druglike properties of CBD is based upon cocrystalization, a well-developed and established pharmaceutical strategy that involves taking two molecules to form a cocrystal. When joined together chemically, the physical properties of the molecules are improved. In addition to better bioavailability, some of the potential advantages of a CBD cocrystal include greater consistency, improved stability, reduced polymorphism (the ability of a molecule to exist in different crystal structures), being THC-free, and the ability to create a solid dosage formulation.
Artelo's proprietary cocrystal, solid form of CBD, known as ART12.11, is the first and only CBD cocrystal to have an composition of matter patent issued from the US Patent and Trademark Office. According to O'Sullivan, ART12.11 uses tetramethylpyrazine (TMP) as the coformer in the cocrystal. TMP has a favorable safety profile and has been around for several decades in Chinese medicine.
"TMP is a drug that has already been used clinically for a really long time both in medicine and in food flavoring applications throughout the world. It just so happens that CBD forms a cocrystal with it," O'Sullivan says. "Like CBD, TMP is a plant-derived molecule, so the Artelo cocrystal is a combination of two plant-derived molecules, both with very interesting therapeutic profiles. It opens up some incredibly exciting possibilities."
Most specifically, O'Sullivan says they're looking at using ART12.11 for the treatment of posttraumatic stress disorder (PTSD), inflammatory bowel disease, and stroke. This novel cocrystal composition has potential anti-inflammatory and neuroprotectant activities that make it a good fit for these conditions. "PTSD was an indication we were particularly interested in, as we saw a need, particularly in the current pandemic, that must be met," she adds. "From a pharmaceutical point of view, there are a lot of companies making CBD medications right now for a whole range of conditions from skin to pain to cancer. We wanted to fill a gap with PTSD and anxiety."
Moving Forward Rapidly
Data exist on both CBD and on TMP individually, O'Sullivan says, and scientists at Artelo are now working on the data on the cocrystal. "Once in the system, the cocrystal will come apart, and we already know how the body reacts to these two molecules individually," she says. "So, we're moving forward rapidly. We're doing some key toxicology experiments and will then move into human trials with feasibility and efficacy studies."
According to O'Sullivan, having the patent on the cocrystal is key, as protecting intellectual property is a hot topic in CBD medicine right now.
"Pharmaceutical companies are coming up with novel ways to improve CBD," O'Sullivan says. "The plant provides us with the raw ingredients but, in its current form, it's simply not the best way for humans to use it. By making these modifications, we help make it better, but those innovations need to be protected."
The Future of CBD Medicine
O'Sullivan sees many possibilities for the future of CBD medicine, particularly as companies such as Artelo continue to find ways to modify the molecules.
"I think in the next five to 10 years, we are going to see new second-generation CBD medicines in which the basic physical properties of CBD have been improved upon," she says. "There is going to be more intellectual property around the space and more investment to be able to run the trials that are needed."
O'Sullivan expects to see many novel formulations of CBD that are available to prescribe in different indications. She says the research in many of these areas is underway.
"There are already some formulations reaching phase 3 in trials and nearing the end of the pipeline," she continues. "For instance, we're seeing a CBD gel showing promise for patients with the rare Fragile X syndrome. Things are moving quickly."
With the application of a well-known strategy of using cocrystallization to enhance CBD's poor physical properties, O'Sullivan says, Artelo has found a way to make the potential for CBD even more promising.
"They took a pharmaceutical approach to a problem with CBD—and they made it better," she says. "That success makes the future really exciting."
— Lindsey Getz is an award-winning freelance writer in Royersford, Pennsylvania.