Fall 2020
Advocacy: Veterans Support Cannabis for PTSD, Traumatic Brain Injury
Veterans Cannabis Project lobbies to change laws to make cannabis more accessible to veterans who need it.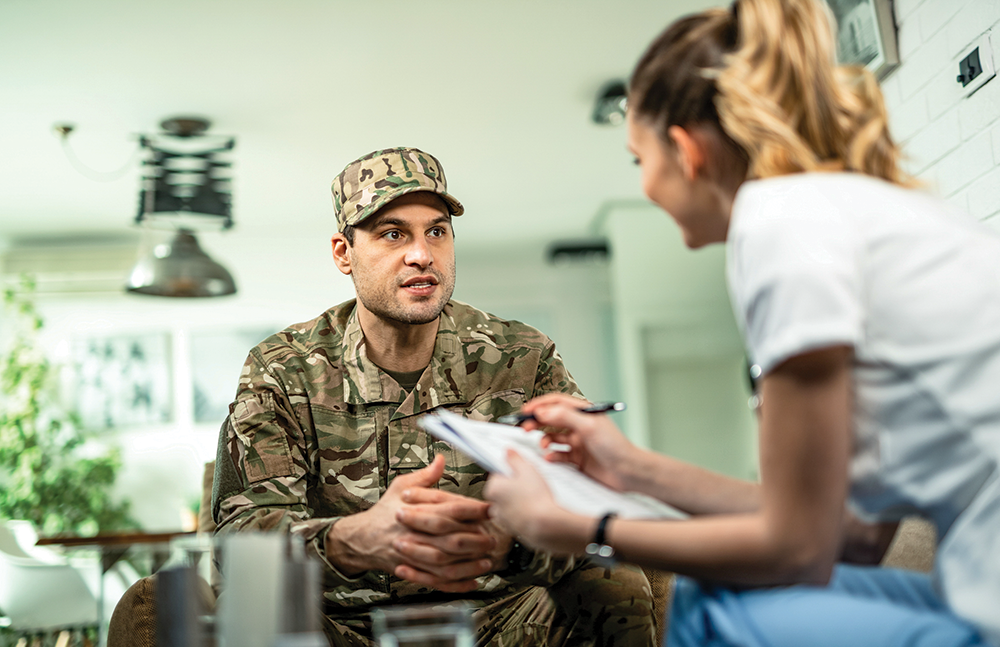 As a young man, Doug Distaso knew what he wanted to do with his life: join the U.S. Air Force. He set out on this path by attending and graduating from the U.S. Air Force Academy. He then served in the Air Force for more than 21 years. Distaso flew in counterterrorism hotspots around the world, from Europe to the Pacific.
But his service came with a price. An aviation accident left him with chronic pain and posttraumatic stress disorder (PTSD), and the only help he received from the VA and its network of hospitals and clinics was in the form of painkillers. By the time he left the Air Force in 2015, he'd become addicted.
With the help of his wife, Whitney, Distaso was able to wean himself off the painkillers, turning instead to medical cannabis. He now serves as executive director of the Veterans Cannabis Project, which helps improve access to medical cannabis for veterans.
Nick Etten, a former SEAL who founded the Veterans Cannabis Project in 2017, had veterans like Distaso in mind when he established the organization. He also knew from his work as a government affairs professional how little progress had been made in health care for veterans.
"I was shocked by how little investment had been made into effective protocols for PTSD and other signature health issues for veterans," Etten says. "Veterans discovered on their own that cannabis helped them, but for those living in nonaccess states, getting the medicine in a legal way has been a challenge. Because cannabis is illegal at the federal level, veterans feel that they can't go through government channels to get it. That leaves them paying out of pocket for the most expensive component of health care rather than getting it through the channels they earned."
Indeed, since the Vietnam War era in the 1960s, men and women who served in the military came home with psychological injuries the VA system was unprepared to address. The system's solution was to "prescribe drugs," Etten says, because the doctors didn't know how else to treat them. The result was like "throwing gasoline on a fire."
It soon became clear to Etten that cannabis was one of the few treatments that worked, and the only way to provide it on a large scale was to change its designation as a Schedule I substance under the Controlled Substances Act. This policy is at the root of the problem of access to medical cannabis that veterans experience. For this reason, the Veterans Cannabis Project has focused on changing this designation, which must take place at the federal level. Not only will this improve access to cannabis but it also means that it will be possible for scientists and clinicians to participate in FDA-approved research projects.
To accomplish these goals, Etten and his team spend a lot of time lobbying Congress. Over the past several years, they've noticed some encouraging signs, the most significant one being that the House of Representatives has passed a couple of bills legalizing cannabis. "This shows that Congress is looking at this issue critically and passing bills based on good policy," Etten adds. "Even Republicans are beginning to understand the value of cannabis. We continue to educate them about cannabis and remind them that we're talking about a health issue for veterans."
Like any nonprofit, the Veterans Cannabis Project's team also devotes some time to fundraising. The organization looks wherever it can for money, with successful cannabis companies at the top of its list. When reaching out to these companies, Etten points out that contributing to the cause is a way to permanently change the policies that were enforced during the 1980s, when the ill-conceived War on Drugs was at its height. Nonetheless, fundraising is always a challenge.
The Art of Lobbying
Although Etten has done his fair share of lobbying in Washington, D.C., he also sees value in getting in front of lawmakers in their own districts. He finds that when he brings up the issue on their own turf, alongside veterans, lawmakers have no choice but to pay attention.
"We'll do an event at the statehouse, where we show legislators how to educate their colleagues about the value of cannabis," Etten says. "We also write a lot of op-ed pieces, taking advantage of different kinds of media to get our message out. Or we might bring a couple of veterans with us to an event and have them tell their stories. Our goal is to move the needle that last critical 5%, to get people to step out of their comfort zone and be willing to seriously think about why marijuana should be legalized at the federal level and how it will help veterans."
Etten acknowledges that the COVID-19 pandemic has made this kind of lobbying challenging, and without the face-to-face advantage, it's more difficult to change people's minds. The next best thing, however, is building a cadre of champions on the ground who can help with the education component. "There are good tailwinds for cannabis right now, but it's not always easy getting the message out," Etten adds. "We need to pick and choose places where we can be effective. During an election year, there's a lot of noise out there."
Funding for Alternative Treatments
Along with an emphasis on lobbying, the Veterans Cannabis Project is also looking at the possibility of funding complementary and alternative therapies. The organization is considering a wide range of options, from meditation to acupuncture to equine therapy. Such treatments have the potential to serve as a complement to cannabis. "More money is spent on tools to diagnose ailments rather than on therapeutics to treat them," Etten says. "If we could have alternative therapies available at VA centers along with marijuana, it could be a game-changer for veterans.
That said, for the Veterans Cannabis Project, the primary goal remains to improve access to medical cannabis for all veterans. According to Etten, veterans have been aware of its benefits and have been speaking out about them for 50 years. Although medical cannabis isn't effective for every ailment, it's relatively safe and has documented therapeutic benefits.
"Cannabis is working for this group of patients," Etten notes. "It represents one of the most compelling opportunities to focus in on a variety of different conditions. That's why I'm so committed to working with the Veterans Cannabis Project to change the laws and get over the line with this therapy."
— Marilyn Fenichel is a health and science writer based in Silver Spring, Maryland.