Fall 2019
The Buzz: The Art of Cannabis — Weedmaps Museum of Weed
A cannabis tech company and a creative agency teamed to create an entertaining, curated experience that sheds light on the history of cannabis and the lingering effects of prohibition while championing change in legislation and social attitudes.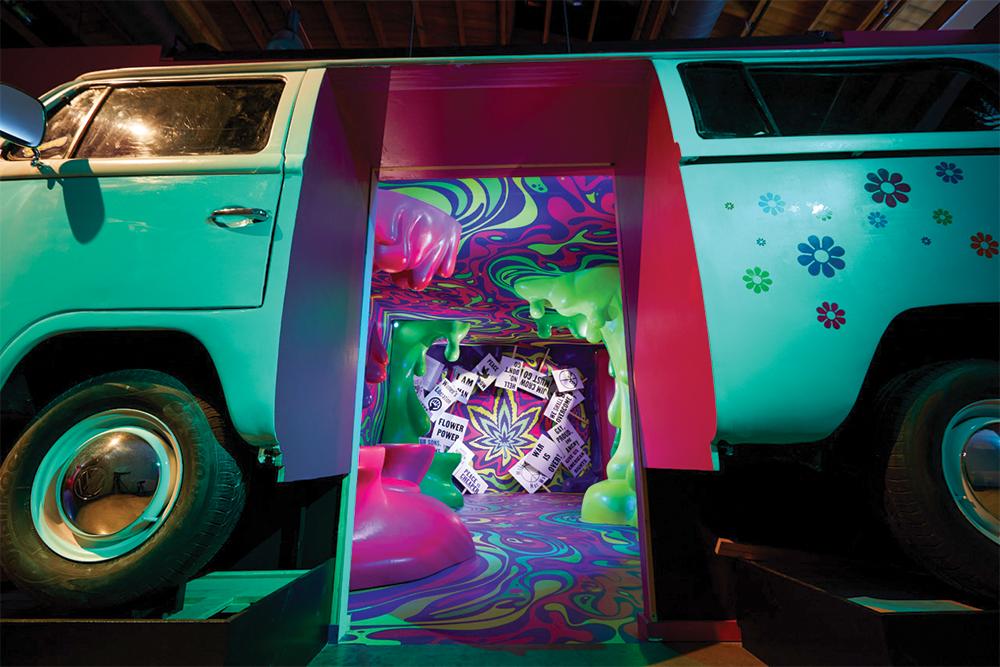 "Today in the United States," says Chris Beals, CEO of Weedmaps, a cannabis technology company, "someone is arrested for nonviolent possession of cannabis every 48 seconds. That's over 650,000 arrests annually, consuming hundreds of millions of dollars and resources from law enforcement efforts. There has been too little discussion of the role that the prohibition played in a number of historical and ongoing social injustices."
To kickstart that conversation, Weedmaps, in partnership with VIRTUE, a Los Angeles–based creative agency, created Weedmaps Museum of Weed, a 30,000-square-foot pop-up exhibition that debuted in Hollywood's ultrahip Melrose district. There, from August 3 to September 29, 2019, visitors viewed art installations and historical artifacts and engaged with interactive exhibits that explored the checkered history of cannabis and tracked its ever-changing place in the nation's culture. The museum, Beals says, was conceived to provide patrons with "a robust understanding of the highs and lows of cannabis history, and to create a stronger understanding of the importance of this plant and its potential."
Madeline Donegan, the museum's executive director, says the exhibits, a year in the making, were designed to be fun but also educational. One of the museum's key concerns is illuminating the social factors that contributed to an enduring stigma surrounding the use of cannabis. "Despite increasing efforts to decriminalize cannabis and overwhelming evidence about its benefits, stigma around weed continues to run deep," Beals says. Although attitudes have shifted over the years, the stain of prohibition lingers and is evident in the nation's system of mass incarceration and the ongoing racial disparities with respect to policies and access. Thus, the museum's purpose, Beals adds, is "to demystify cannabis and its role in society and to draw attention to the impact prohibition of cannabis has had on various social groups in the US and beyond."
Seven exhibits trace the history of cannabis through decades—even centuries.
The first, "Pre-Prohibition," reveals how cannabis has been entrenched in society for millennia and highlights the earliest uses of cannabis and hemp, including their role in war. From the Edo period in Japan (1603–1868), a stunning life-size mannequin is draped in a samurai warrior's body armor bound by hemp to blunt the impact of a sharp-edged weapon. And here, the exhibit demonstrates as well that the hemp industry that seems such a modern preoccupation was, perhaps surprisingly, very much a topic of interest among Americans as far back as the 18th century. The evidence? A simple declaration attributed to the father of the American Revolution, Thomas Paine: "Hemp Flourishes." As the exhibit makes clear, the burgeoning industry was made possible by slavery.
The importance of cannabis for healing is also highlighted. Though the plant has been used medicinally since ancient times, the exhibit demonstrates through wall displays of popular tonic bottles that cannabis as medicine had already been commodified by early 1900s.
"Age of Madness" offers a glimpse into the early 20th century, when politicians aligned with leaders of the steel, cotton, tobacco, and pharmaceutical industries to demonize cannabis in the public mind, unleashing a torrent of propaganda, some including racist depictions, aimed to strike fear into the country's white majority. The federal prohibition of cannabis soon followed in 1937, only four years after the prohibition of alcohol was repealed. In this exhibit, the hype and hysteria that cannabis prohibition fomented are on full display in posters from the 1930s warning of the dangers and evils of smoking and in a screening of the now-notorious 1936 propaganda film Reefer Madness.
"Counterculture Revolution" tracks the cultural highs and lows from the late 1950s through the '60s and beyond, as the beat generation and hippie culture and many other social change movements—from feminists to antiwar activists—together expanded the popularization of cannabis.
The politicization of cannabis is detailed in two exhibits. First, "Behind Closed Doors" reveals how President Richard Nixon began the brutal war on drugs, resulting in cannabis being officially listed as a drug on par with heroin and cocaine and initiating an era of discriminatory laws, policies, and regulations. In "Entrapment," news clips of Nancy Reagan's notorious "Just Say No" campaign provide the soundtrack to an exposé of the Reagan years, when anticannabis propaganda continued to lay the foundation for the tragic and inequitable policies of mass incarceration of racial minorities. 
"Dose of Compassion" tells the story of how the HIV/AIDS epidemic of the 1980s resulted in the first limited legal use of cannabis by doctors to ameliorate the suffering of disease victims. It sheds light on the role of HIV/AIDS activists in the establishment of the nation's first public dispensary and the passage of Proposition 215, the Compassionate Use Act of 1996, which legalized medicinal cannabis in California, leading the way toward today's more widespread availability of medicinal cannabis.
"Legalization" presents an interactive detailed timeline of the decades-long road leading to the earliest ability to access medical cannabis in several states and of state passage of laws permitting recreational use as well. Visually dramatic video presentations illustrate state-by-state growth in public acceptance of cannabis, changes in state legislation, and the cannabis industry's recent and forecasted growth in billions of dollars.
The exhibit's final destination, the Plant Lab, is a large space focusing on the cannabis plant itself. Here, visitors were able to boost their knowledge of the two most common cannabinoids, THC and CBD. And MMJ clinicians—including doctors, nurses, and hospital employees—could review research data that may enhance and support their ability to help patients by prescribing particular strains of cannabis for specific medical needs. Plant Lab explored scientific breakthroughs from the 1960s and through the present day, offered a glimpse at the latest technology, and delivered a top-down overview of today's advanced knowledge about all aspects of the plant's components—from cannabinoids to terpenes—drilling down to molecular-level details about how patients' ailments can be matched with remedies with pinpoint accuracy.
The museum delivered an experience that will remain relevant and a message that needs to be widely heard. According to Donegan, there's no question that museum patrons gained "a renewed understanding of the impact prohibition of cannabis has had on various social groups in the US and beyond."
Will Weedmaps Museum of Weed be coming to a town near you? That remains to be seen, but Donegan hints at the possibility. She describes the museum as "both an immersive experience as well as an educational tool." It was constructed, she says, "in such a way that it could be transported and re-created in other markets. Both Weedmaps and visiting patrons alike see its inherent value in helping to demystify the negative stigma associated with cannabis and its role in society, and we want to be purposeful in determining when and where to take the museum next in order to generate the most impact."
More information about the museum, including audio tour files about the exhibits, is available at www.themuseumofweed.com. Additional information about Weedmaps is available at www.weedmaps.com.
— Rick Lesser is a freelance writer living in Los Angeles.