Fall 2019
The Learning Curve: Not-So-Standard Education for Budtenders
Training protocols are a topic of controversy.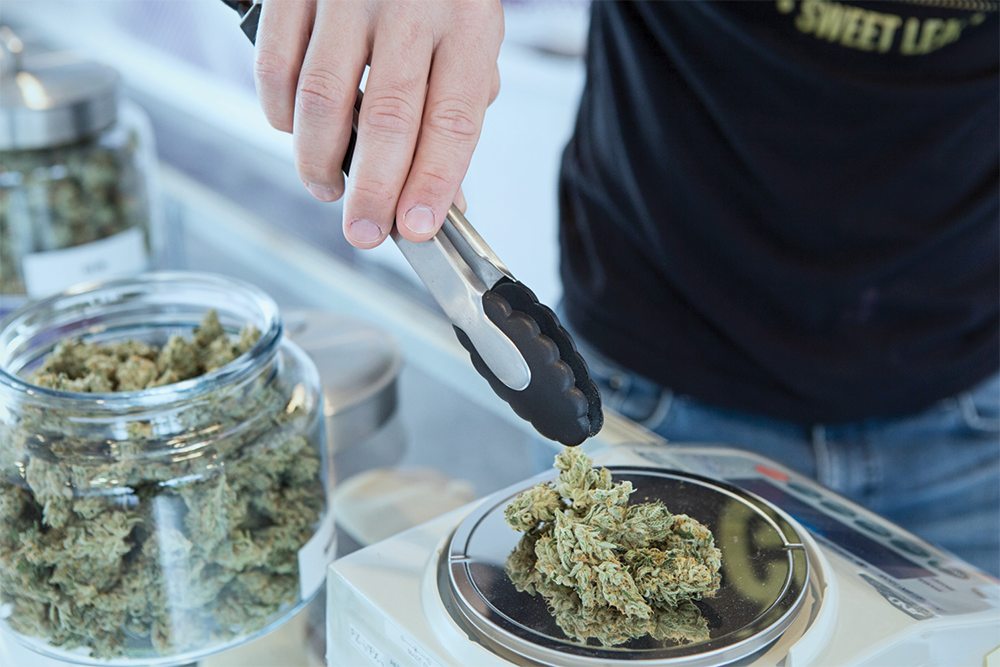 A constant in the budtender job description is to provide customers with product recommendations. What isn't as universal, however, is the training dispensary workers receive before they take their places behind the counters. While a national certification standard could be down the road, leaders in the cannabis industry are considering the need for even minimum education standards, particularly as they could lend further credibility to the incorporation of cannabis into a patient's medical protocol.
Some see education standards in budtender training bringing consistency to a position where even the title can be deceiving. For some, budtender has a social ring to it, like a bartender. There are also those who see the position as that of a marketer or retail sales associate, basing product recommendations on advice from manufacturers' representatives. However, many believe the budtender role needs a more clinical connotation, to the point of pharmacist status. Others still think the position's standards should remain flexible to meet the needs of the individual dispensary and its market.
Ashley Manning, business development manager, and Adrienne Uthe, vice president of sales and marketing for the National Association of Cannabis Businesses, see a need for education standards. Their self-regulatory organization, based in Milwaukee, already has established standards in several areas of the cannabis field—packaging and labeling, advertising, and lab testing and product integrity. They say that while the cannabis industry is headed in the right direction when it comes to budtender education, there's still some ground to cover when it comes to establishing standards. Product knowledge shouldn't just come from branding and labeling.
"The product that's selling the best may not necessarily be the best product for that patient," Manning says. "Decision making should be based on patient need."
Education Sources
One way education standards could help the industry, some leaders say, pertains to the process of training dispensary staff. Sources of cannabis industry education are growing with the proliferation of cannabis dispensaries in the United States. There are a number of "budtender certification" programs, available as both online and brick-and-mortar options. The challenge for students interested in finding cannabis education is finding a legitimate program. Clover Leaf University President Chloe Villano says prospective students need to be aware of "pop-up" schools and should check a school's credentials before enrolling.
"A school is not a school unless it has a certified license from that state's Department of Education," Villano says. "A state-licensed school is insured and bonded."
Clover Leaf is an accredited occupational university located in Denver that specializes in phytotechnology, the science of implementing solutions to scientific and engineering problems in the form of plants. Founded in 2009, Clover Leaf offers a four-hour budtender certification course. Villano says the school recommends that students taking the budtender course also take the "responsible vendor" course, which is like training bartenders receive.
"Our students are taking responsibility for their education," she says, "so we want to teach them as much about the cannabis industry as possible."
Hurdles to Standardized Education
Manning and Uthe speculate that one hitch in the process to standardize education is a lack of state requirements for the budtender role, making it difficult to define criteria for the position.
"Emphasis on education depends on the cannabis industry climate in that state," Uthe says. "A more medically focused state places priority on education of the people behind the counter. In other states, the person in that role is seen as more of a retail sales associate. There are fundamentals that the person behind the counter should know. They should be able to speak to things like where the product came from and proper dosing. Those are things that could be addressed through standardized education."
Another obstacle, Manning says, is that you can't have standardization without product consistency. The plant is different from place to place. You end up relying on individual manufacturers and product sellers for education on the product and its best applications.
"With this method of education, a budtender isn't going to learn about things like drug interactions," Manning says. "Some products do come with dosing guidelines, but overall, budtenders need education about that."
She adds that with cannabis categorized as a Schedule I drug, the medical community has not yet engaged in the education standardization process. Doctors are not writing prescriptions for Schedule I substances. Manning says knowledge of the benefits of medical cannabis is spreading among the medical community, but progress toward greater acceptance and formalized education standards are deterred while cannabis remains in this drug category.
"Doctors are willing to learn about medical cannabis, but they're not sharing that information with others," she says. "We need information from universities and medical doctors, but I don't see this happening within the next five years. The medical community wants standardization for the sake of credibility. We getting to that point, but we're not there yet."
Pharmacist Status 
Incorporating pharmacists into the cannabis dispensary mix could be a gateway to incorporating education standards that include medical expertise. Joseph Friedman, RPh, MBA, national director of pharmacy at a premier cannabis organization with grow operations and dispensaries throughout the United States, advocates for pharmacist involvement in the cannabis industry. Based in the Midwest, this multistate cannabis company is involved in all aspects of the industry—cultivation, manufacturing, extraction, packaging, retail, branding, and wholesale distribution. It packages, ships, and distributes products within the states where it has business operations, including the dispensary locations it owns and operates.
Friedman's role is to help select and train pharmacists to tend to customers at the company's dispensaries. He looks for candidates who are already pharmacists or are studying to become pharmacists and he sends them background information on the medical aspects of cannabis. With Friedman as the preceptor, the students complete what he calls a "clinical rotation" that lasts six weeks. During that process, pharmacists and pharmacy students are given the opportunity to provide consultations with patients once Friedman feels confident about their knowledge of cannabis and their comfort level speaking to patients about the available products within the dispensary.
"The proper education is so important," he says. "Dispensaries around the country are giving medical advice to people without the proper medical training to back it up. You need to treat patients as they should be treated, with input from health care professionals. You need to have pharmacist involvement. You can't have uneducated people giving out medical advice."
Friedman, who uses the phrase "product specialist" instead of the title "budtender," began studying the medical benefits of cannabis in February 2015, when Illinois Governor Bruce Rauner conditionally awarded permits to operate medical cannabis dispensaries in the state. He also created the first pharmacy student clinical rotation at a medical cannabis dispensary in the country. Two Illinois colleges of pharmacy participate—Roosevelt College of Pharmacy and Chicago State University College of Pharmacy.
Friedman points to a 2016 study showing that 55% of dispensary staff reported some formal training for their positions, but only 20% reported having any medical or scientific training. Despite the disparity in education when it comes to aspects such as benefits and counterindications, 94% of dispensary staff reported providing specific cannabis advice to patients entering their dispensaries. This study, considered the first examination of characteristics and practices of dispensary staff, was conducted by various psychiatry, psychology, posttraumatic stress disorder, and substance abuse professionals from Stanford University School of Medicine, Palo Alto University, The Johns Hopkins University School of Medicine, the VA Palo Alto Healthcare System, the Philadelphia VA Medical Center, and the University of Pennsylvania Perelman School of Medicine.
Some leaders in the medical cannabis industry believe that education standards are best when they come from within. Morgan Fox, media relations director for the National Cannabis Industry Association (NCIA), doesn't quite see the same sense of urgency regarding the establishment of budtender education standards by government entities or industry organizations. While he says NCIA is not against government standards in theory, it sees the issue more in terms of being informed by industry standards developed by experts, and he says his organization, which has a presence in Washington, D.C., and Denver, provides resources and holds events to help inform dispensary operators and individuals interested in working in dispensaries. However, he stops short at calling for widespread standardization of education programs.
"I see standards in cannabis education as more self-imposed as the industry expands," Fox says. "I'm not sure that regulated education standards are appropriate. I think standards should be on the business owners, to best represent the product and this industry, and to do so by imposing their own standards on their staff."
Fox adds that any medical advice should come from customers' doctors, not the people who work where they buy their cannabis. "It's not appropriate for the clerk to provide medical advice to the customer," he says.
Credibility From Standardized Education
Friedman says that having health care–related personnel, such as pharmacists, working in cannabis dispensaries helps the industry build relationships with other health care providers.
"If someone in your dispensary can understand the medical side of their patients' conditions, they can better converse with doctors, who will be more likely to refer patients to your dispensary," he says. "There have been efforts to work with some senior living communities and long term care facilities, and that is more likely to happen if you have a pharmacist behind the counter."
Regardless of where or how a budtender learns the trade, consensus among industry leaders is that individuals in that position must have a certain level of education in the product. Many in the health care field believe, however, there needs to be a standard education program in place for budtenders to reach competencies that best serve customers seeking to treat medical issues with cannabis.
"Consumers want people behind the counter who know what they're talking about," Uthe says. "They want to trust that that person is knowledgeable."
— Kathy Hardy is a freelance writer based in Phoenixville, Pennsylvania.