Fall 2019
In Print: Higher Ettiquette
Between nuggets of advice about how to behave in social situations involving cannabis, a descendant of America's consummate expert on good manners slips in a surprisingly useful guide to all things cannabis for newbies and seasoned users alike.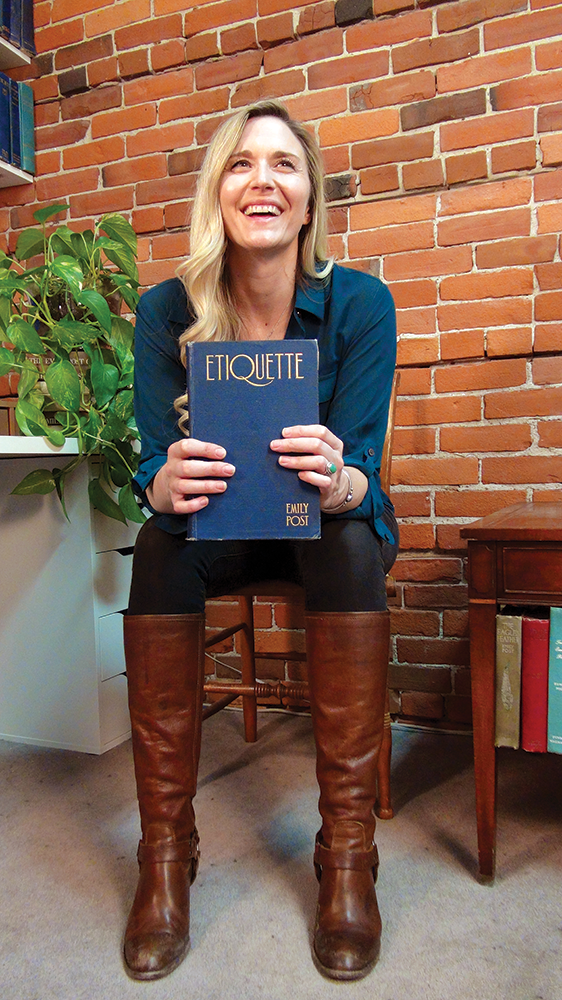 Who better to write the rules of genteel comportment in social interactions involving cannabis than Lizzie Post—an enthusiast and supporter for more than two decades who's also a beneficiary of a family legacy built on educating the public about decorum. In her recent book, Higher Etiquette: A Guide to the World of Cannabis, From Dispensaries to Dinner Parties—the title itself is evidence that "sub" is no longer a prefix to "culture" when it comes to cannabis—she advises readers about how to conduct themselves impeccably in all situations, from procurement to consumption.
Etiquette and authorship are written into Post's DNA. Setting protocols of politesse and publishing books on the subject have been the foundation of the Post family business for nearly a century. Herself an author of books about etiquette, Post is the great-great granddaughter of Emily Post, famed author of the 1922 bestseller Etiquette in Society, in Business, in Politics, and at Home who, nearly half a century after her death, is remembered as the preeminent arbiter of decorum.
It's not only Lizzie Post who has a claim to an inheritance of that authority. Her father, Peter Post, managing director of the Emily Post Institute, wrote five books about social graces including the New York Times bestseller Essential Manners for Men and penned the Boston Sunday Globe's advice column "Etiquette at Work" for more than 10 years. Her sister, Anna, has written or cowritten seven books on manners. With her cousin Daniel Post Senning, Lizzie Post is copresident of the Emily Post Institute, which offers training, resources, and seminars about etiquette in business and everyday life. And together they host the institute's Awesome Etiquette podcast, sounding off on a wild range of etiquette issues from toilet seats at work to foul-mouthed sports fans.
Why a book on cannabis etiquette? Emily Post declared that "Whenever two people come together and their behavior affects one another, you have etiquette." According to her great-great-granddaughter, "Given Emily's definition, it's safe to say that cannabis culture is baked in etiquette, has been for a long time, and goes far beyond puff-puff-pass." Post observes that, until recently, cannabis etiquette evolved in a period of prohibition: "When cannabis is scarce and using it must remain secretive, much of the etiquette is focused on protecting people's privacy." As prohibition erodes, legalization proceeds, and more and more people are coming together over cannabis, the focus shifts away from shame and secrecy. Thus, codes of behavior are a matter of importance to a burgeoning number of consumers. "In the United States, as individual states take the matter into their own hands, the accessibility of product, increased knowledge, and destigmatization are changing the culture of cannabis and its etiquette," Post adds.
If it's never occurred to you that guidelines for cannabis etiquette were a necessity or that etiquette instruction could be entertaining, Post makes a compelling case for both. But don't be fooled by the title. The book isn't merely a primer on being polite about pot. True, Post gives readers the lowdown on getting high with class, but this isn't a text on propriety for potheads or social skills for stoners. (On the contrary, it begins with a discussion that shatters such stereotypes of cannabis consumers.) But if you imagine the book to be little more than admonitions against bogarting a joint and other handy tips, you'll be surprised by the sheer amount of useful information it contains.
Early on, the author tackles language, observing that the word weed—like marijuana—has fallen out of favor among many enthusiasts, as it demonstrates, some believe, disrespect for the plant. She points out, too, that marijuana as a designation is widely believed to retain a lingering stain of racism, though some, she observes, argue for its positive use in a new era. As she peppers the text throughout with terms for cannabis—pot, ganga, sticky icky, bud, cheeba, sweetleaf, sensi, skunk, shake, chron, and doja being only a small sampling—it becomes evident that there are more words for the plant than Native Alaskans have for snow.
Post researched and wrote the book in four months, immersing herself in the subject by taking a road trip through legal states and tapping the wisdom of growers, budtenders, advocates, writers, influencers, consultants, and other experts. Their expertise adds depth and breadth that make Higher Etiquette more than its title suggests. It's actually an excellent introductory guidebook, not only to legal cannabis culture but also to cannabis in all its forms and uses—to the science of the plant and the means and methods by which it's consumed.
Before helping enthusiasts sidestep ganga gaffes and flower faux pas, addressing questions such as whether users should tip their delivery providers or if it's rude to decline to share mouthpieces, Post offers a glossary of scientific terminology, a synopsis of the botany of cannabis, and a full discussion of the entire range of available products—those used both recreationally and medicinally—from flower to extracts and concentrates, resins, and infusions. She shares a very useful overview of the chemistry of cannabis, explaining the role of cannabinoids, terpenes, and strains and detailing how each influences the effects and experiences consumers can expect. Although not focused specifically on medical applications, it's a clear analysis that's likely to make medical consumers better able to discuss cannabis use with their health care providers, determine what products and applications might be useful for them, and make wiser choices in dispensaries.
Even in the sections pertaining to good behaviors associated with cannabis connoisseurship and consumption, there's a wealth of useful detail about tools and techniques, equipment use, safety, and methods of administration, including dabbing, vaping, ingesting, and absorbing. Readers who are new to cannabis will come away with a much clearer understanding of their options and the pros and cons of each.
In addition to laying down the rules of engagement with cannabis, Higher Etiquette serves another purpose: to diminish a lingering stigma associated with cannabis. Post invokes the spirit of her famous ancestor, noting that Emily Post was a fierce critic of the prohibition of alcohol, as it violated citizens' rights and was rife with corruption. The book skates significant discussion of the checkered history of cannabis and the brutal consequences of prohibition, steering away from anything more than a passing mention of the plant's history, the consequences of prohibition, or related social justice issues—which, in fairness, are beyond the scope of the book. Nevertheless, by normalizing the presence of cannabis in social interactions, Post aims to change the image of the cannabis consumer from potheads and stoners to the everyman—to bring people out of what she calls the "canna-closet."
While clearly skewed to an audience of recreational users, the book has value for those interested in medical applications. Clinicians already incorporating medical cannabis in their treatment arsenals may want to recommend the book to patients who wish to know more about cannabis in general and methods of use in particular. And practitioners who are only beginning to explore the world of cannabis as well as those who wish to know more about cannabis beyond its therapeutic use will gain a basic understanding of the science of the plant and an inspiration to educate themselves further.
— Kate Jackson is editor of CRx.