Fall 2019
People: Consultant Emma Chasen Educates and Inspires
Here she offers tips to clinicians about incorporating cannabis into treatment and examines their role in the evolution of the industry.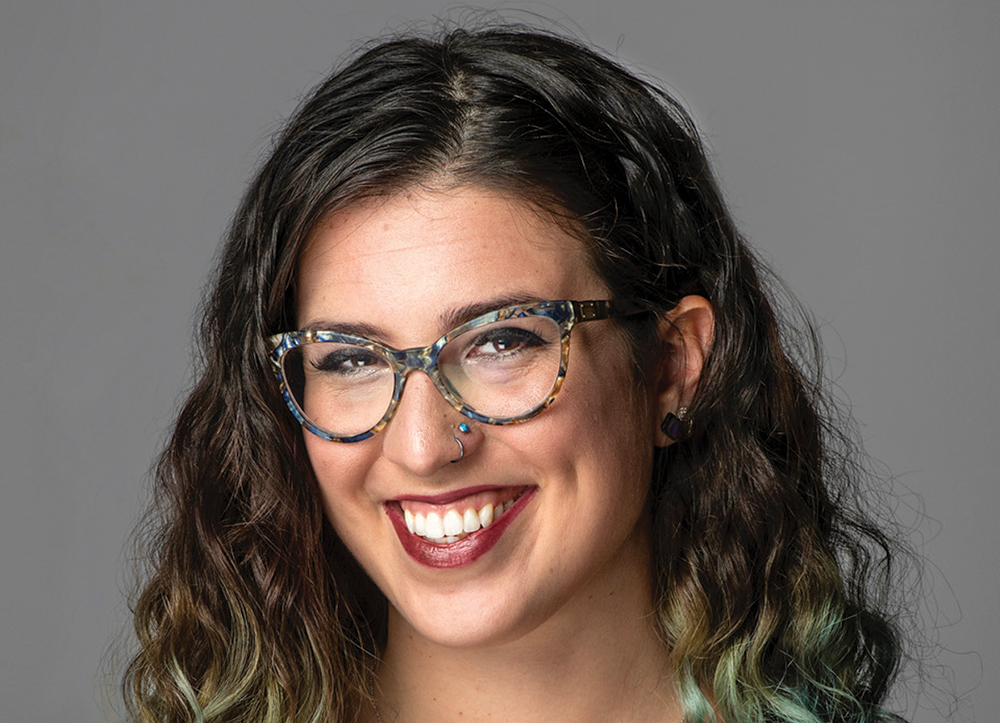 Once an uninspired premed student, Emma Chasen found her true vocation as a cannabis consultant and educator.
While pursuing studies in premed at Rhode Island's Brown University, Chasen—who previously eschewed substance use of any type—was introduced to cannabis by a "super brilliant friend" and neuroscience major who was researching the effects of psychotropic drugs on neural pathways. As Chasen learned more, she rediscovered her long-held interest in the healing properties of medicinal plants. Realizing that she could formally study plant medicine, she customized her own biology curriculum, earning a bachelor's degree in ethnobotany and medicinal plant research in 2014.
Following graduation, Chasen coordinated clinical oncology trials at Brown. Excited to combine her scientific knowledge of cannabis with oncology research, she was dismayed when her supervisor refused a cannabis trial. Concluding that the stigma around cannabis was too great, the Long Island native decided to leave the East Coast for the West. Moving to Portland, Oregon, she took an entry-level position as a budtender at Farma, a popular dispensary. During her two years there, she became general manager and then stepped into a pivotal role as director of education. This experience cemented Chasen's belief that education is an effective way to destigmatize this remarkable medicinal plant, allowing more people to feel comfortable considering cannabis therapy. With this ethos in mind, she began freelance consulting for the industry, offering education and aiming to be a reliable resource for science-based information. With her services in demand, Chasen, with her business partner, Matt Taylor, eventually founded her own consulting company, Eminent Consulting.
Chasen's Challenge: Educating Communities With Evidence-Based Information
Now a highly respected industry expert, Chasen has been profiled in Forbes, Entrepreneur, Refinery29, and numerous blogs dedicated to the industry. She endeavors to eradicate persistent inaccuracies about cannabis, as well as translate scientific evidence in a way that creates actionable measures and directives for all communities.
"I address this question as a public health effort in my role as an educator," Chasen says. "Because I can understand and digest the scientific rhetoric published in journals, I am able to translate it and make the information accessible to everyone. I have created a curriculum that teaches both lay enthusiasts and industry professionals about scientific evidence regarding cannabis. I also coach people one on one and work with businesses to adopt better educational strategies to increase their brand presence and ultimately do right by consumers."
New Science Points to Chemotype
Misinformation about cannabis abounds, particularly on blogs and media sites. "I often approach this information with speculation, as much of the content is often sponsored," Chasen says. An example is the fallacy regarding the indica/sativa binary—a decades-old belief that certain plants produce certain effects, whether energizing or relaxing—when in actuality the most accurate prediction for how a cannabis cultivar may affect people is derived from the plant's particular matrix. Explaining this frequently misunderstood concept, Chasen says, "When I teach any population about cannabis, I begin with the necessity of shifting away from the indica/sativa binary. At some point in its history, Cannabis (the genus) may have had three distinct species: indica, sativa, and ruderalis. [However], the species were differentiated based on the plant's morphology in the growing phase, not how the harvested flower could make someone feel."
According to Chasen, as cannabis culture evolved in prohibition, indica and sativa began to take on new meaning. "Flowers from the indica plant were associated with a consistent experience of muscle relaxation and lethargy, while flowers from the sativa plant were associated with a consistent experience of increased energy and heightened euphoria." Many people, even those deeply involved in the industry, don't realize that although the correlation between plant species and consistent effect may have held some truth, Chasen says it simply doesn't hold up when examining modern cannabis cultivars. "A large majority of cultivars on the current cannabis market are hybridized with genetics from both the indica and sativa species," she says. "To produce the most accurate prediction for how a cannabis cultivar may make us feel, we must look to the chemotype or chemical compounds within that particular plant matrix. The compounds within that particular flower's matrix will have a physiological impact when consumed and drive the nuanced experience."
Cannabis: A Plant-Based Solution for Pharmacological Problems
The current opioid crisis suggests that our health care system could use a fresh approach, and Chasen believes new findings will influence Western medicine. "The research coming out of Israel is especially fascinating," Chasen says. "They are able to conduct human clinical trials with cannabis, and organizations there are really driving information regarding the impact of cannabis compound formulations on a range of ailments."
For the latest research, Chasen has several sources she prefers. "I look to NICER [National Institute of Cannabis & Endocannabinoid Research] and their comprehensive research library organized by ailment," she says, directing physicians to find it online at www.nicernow.org/research-library. She also recommends the website for the International Cannabis and Cannabinoids Institute (www.icci.science/en), and the Project CBD site (www.projectcbd.org) for more digestible information.
When providing cannabis for their patients, Chasen says the first consideration for physicians is to shift away from the allopathic, pharmaceutical model. "Cannabis is a medicinal plant; therefore, it must be approached as a nutraceutical," Chasen says. "There is no standard dose, and because every person has a unique endocannabinoid tone, the therapeutic dose range is quite large. For example, one person may find symptom relief at 4 mg THC, while another may not find relief until they reach 2,000 mg THC. Therefore, especially for novice patients, encouraging microdosing and titration to reach the unique optimal dose is important."
Chasen encourages health professionals to grasp cannabis' polydynamic nature. "For so long, cannabis has been synonymous with only one compound—THC. Cannabis is so much more than that." At this point, she says, there are more than 500 identified compounds within the cannabis matrix that produce physiological effects. "It has been theorized that the diversity of these compounds directly impacts the therapeutic potential. This theory has been named the entourage (or more recently, 'ensemble') effect. Compounds within the cannabis matrix have documented synergistic effects and, when consumed together, they produce a much greater medically efficacious experience as compared to isolated compounds. When advising patients on cannabis, encourage products that have been formulated with full-spectrum extraction methodology."
Based on her extensive knowledge about the many products available, Chasen is quick to reiterate that not all cannabis is created equal. It's important to request certificates of analysis from suppliers to verify cannabinoid and terpene potencies and to confirm that the products are free from pesticides and heavy metals.
Although physicians can diligently screen products, Chasen reminds clients that plants are not pharmaceuticals that deliver predictable results and suggests a different approach is necessary to empower your patients to evaluate their results. "Cannabis is a medicinal plant that ultimately helps the body better achieve homeostasis. Therefore, effects will vary dependent on many different factors, such as stress level, mental health, hormone cycling, and water and food consumption. These factors are in flux daily, so it takes a lot of experimentation coupled with a holistic mindset to find patterns of cannabis consumption that work best for each individual patient." Guiding patients is much easier with an accurate subjective history. Chasen recommends advising patients to track their experiences in a journal so they can better elucidate for themselves what works when, why, and how, and communicate their progress with their doctors.
Fast Forward
Enthusiastic about the future of cannabis and its "highly revolutionary potential," Chasen says, "I see it as the new Space Age. I think federal legalization will present quite a large shift in how we currently operate. The ability to import and export product throughout the United States as well as globally will begin the next big push in this constantly evolving market." Chasen speculates that, as the consumer population becomes more educated and product innovation and research advances, new compounds, such as CBG (cannabigerol), will begin to take the spotlight. "Hopefully there will be a demand for ethically sourced, full-spectrum products that abide by transparent marketing and engage in educational strategies backed by scientific evidence," she says.
Her parting advice: "Whether you're a doctor, consumer, or industry professional, educate yourself and ask questions. Don't be afraid to contact companies and inquire about their formulation practices as well as their community impact and overall ethos," Chasen says. "The cannabis industry is still nascent and, therefore, especially susceptible to consumer demand. Let's demand that this industry evolve in such a way that best represents this plant (organic, full-spectrum, ethical formulation methodology) and allows for equitable participation by women and people of color."
— Michele Deppe is a freelance writer and novelist based in Seattle.